Plant A Tree During Your Stay
At River Mountain, we aim for guests to grow their relationship with the outdoors and experience the benefits of nature. In line with our mission, every guest has the opportunity to plant a tree during their stay and become even more connected with Mother Nature and the future. Join us and plant a tree for the shade with which you may not know.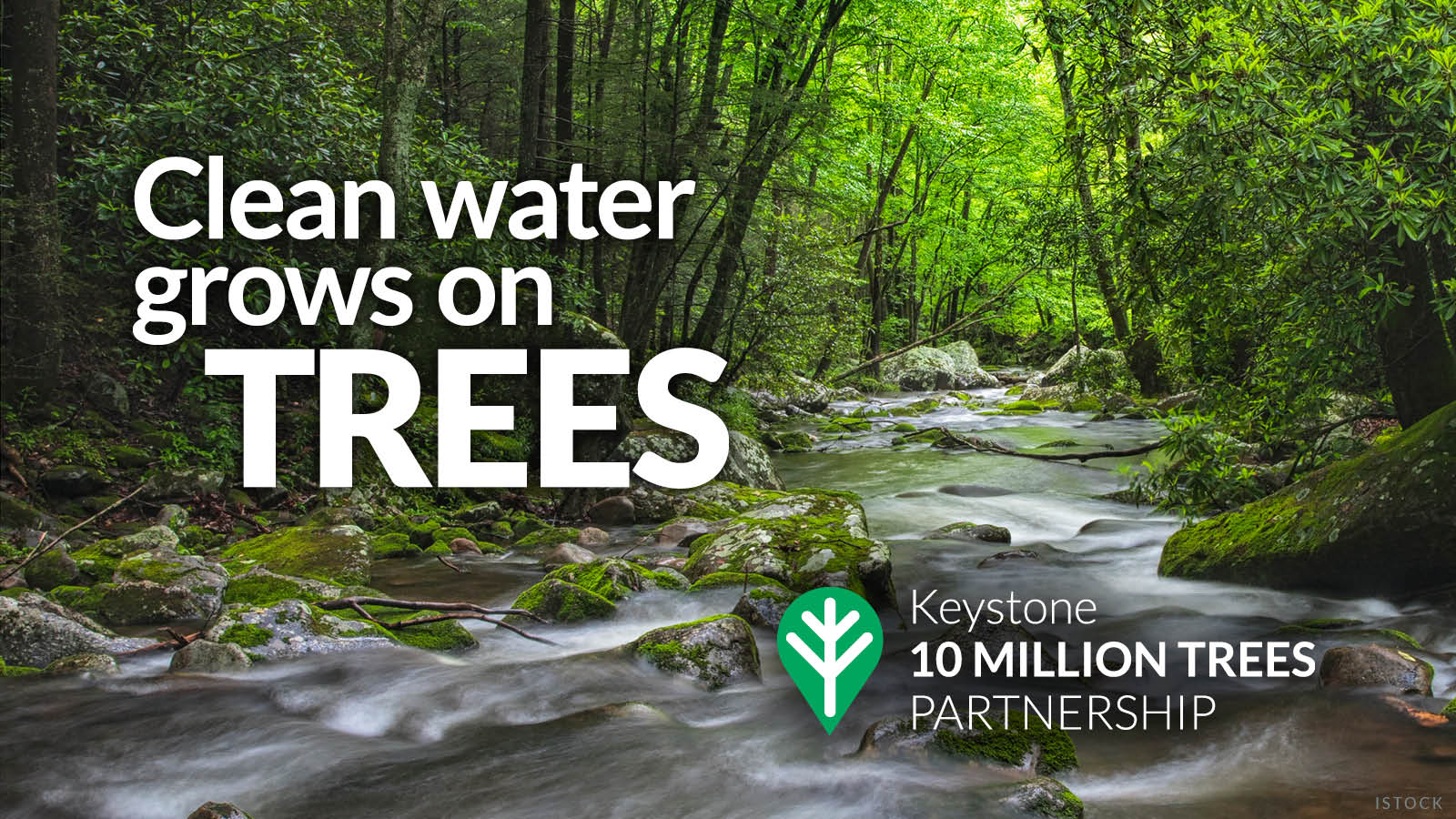 Hive Tour + Honey Tasting
Don't miss the opportunity to experience what's known as "liquid gold" and taste the exquisite flavor of raw HONEY! Led by our Master Beekeeper, Darci, this is a complete flavor journey – learn about our bee hives and taste the unbelievable flavor of small batch honeys and unique regional profiles.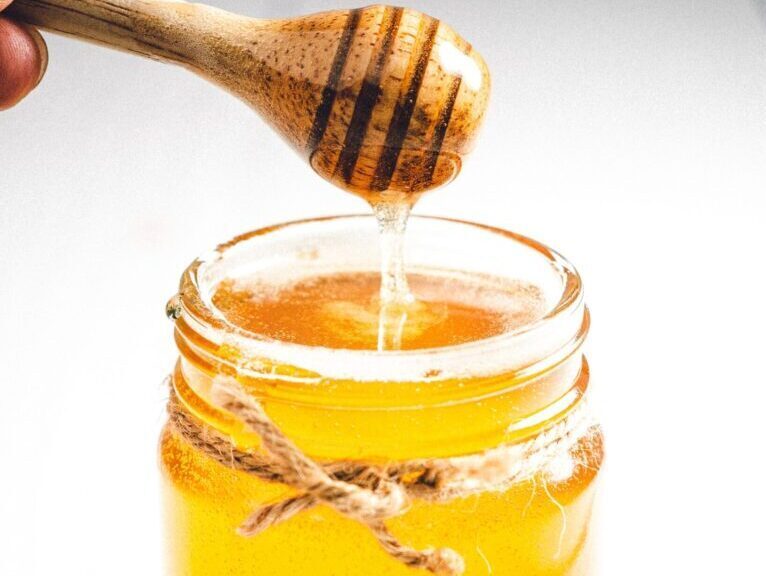 It's a mead meet and greet! Join us for a toast to our bee hives at River Mountain. Taste delicious honey mead and learn how to make it. A perfect evening welcome in the Old Log Cabin.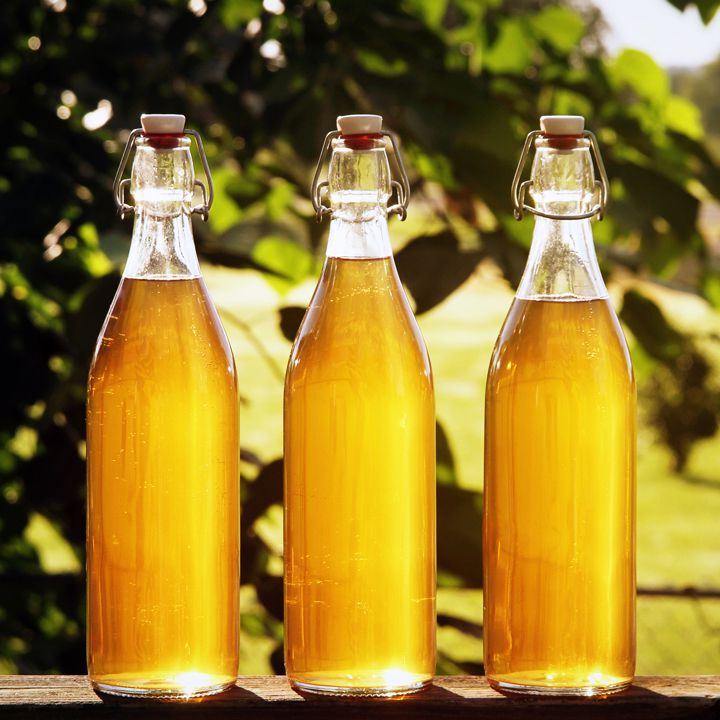 River Mountain Experiences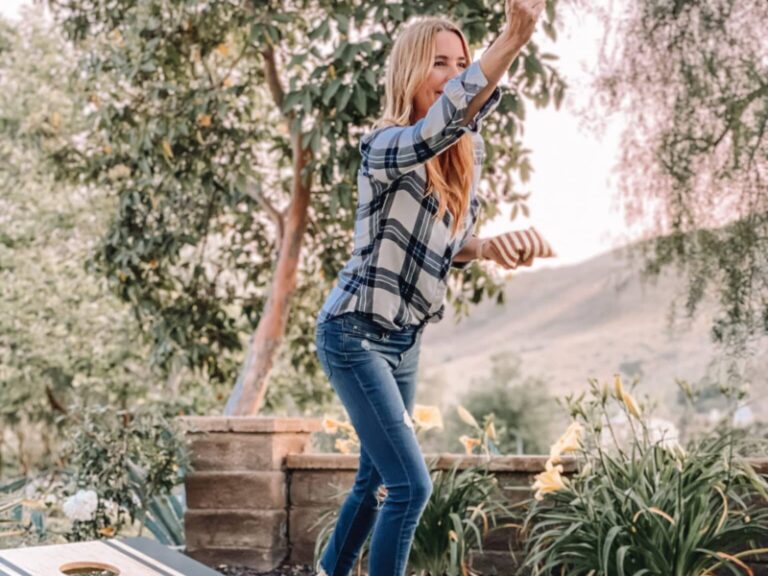 Have some fun and explore – our scavenger hunt is totally fun for adults and kids alike! Our scavenger hunt begins near the Main Lodge trailhead and has six secret spots to find. Each spot is identified by a wooden stake in the ground with a painted green top.
Nearby Adventures + Activities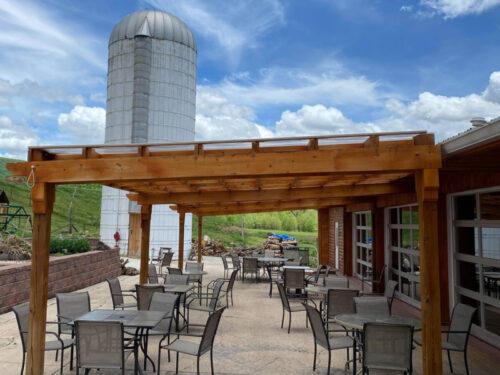 Just South of River Mountain, is the infamous Brewery Tour of Cumberland, MD – The Mountain Maryland Tap and Pour Tour. The driving tour features six breweries, distilleries, and wineries in our area – perfect for your weekend getaway with friends!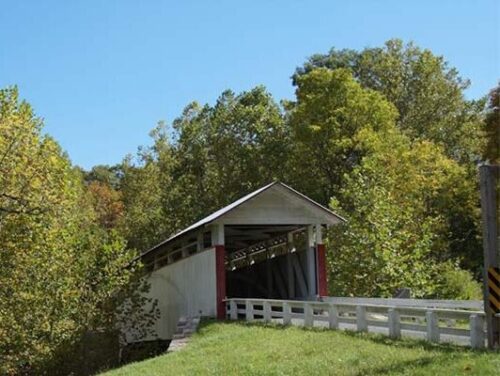 Scenic Drives of Pennsylvania – River Mountain Covered Bridge Tour Bedford, PA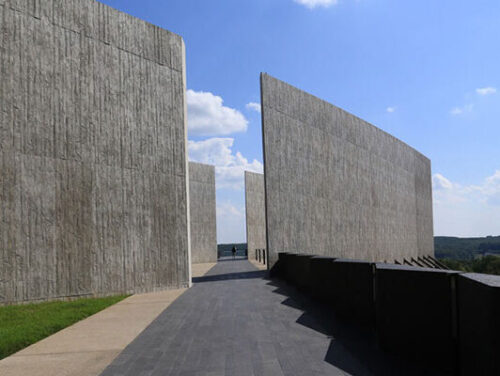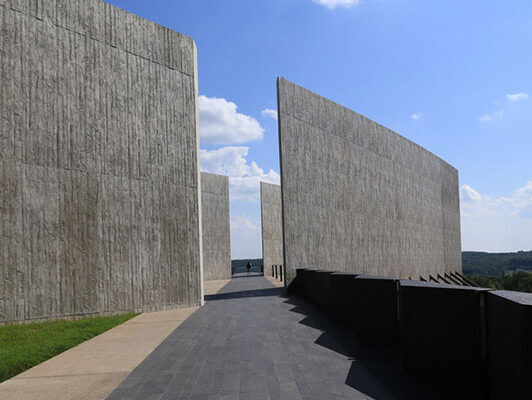 The Flight 93 National Memorial is located about 45 minutes northwest of River Mountain.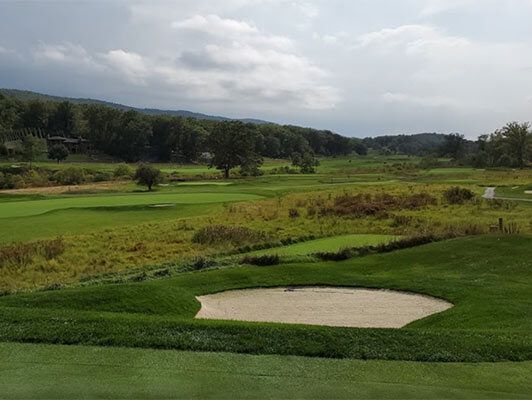 River Mountain is centrally located near several picturesque, challenging, and even world-class golf courses. Beginner or pro, our region has a course for every golfer.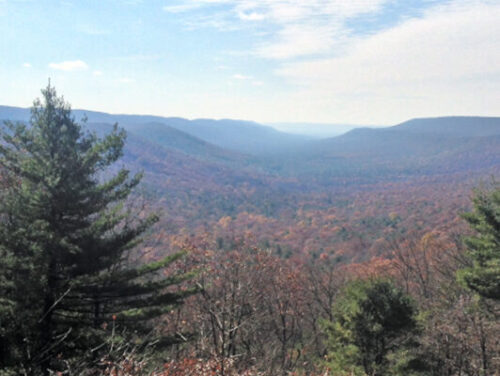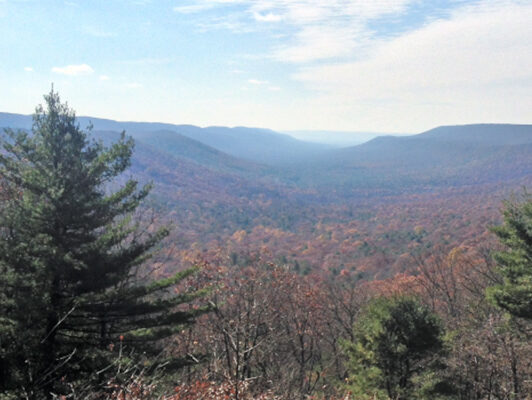 Located at 2850 feet above sea level, the Allegheny Front Hawk Watch is the highest birder hawk watch in Pennsylvania. The Allegheny Front offers a stunning panorama for bird watching, with visibility up to 20 miles on clear days. The Allegheny Front is renowned for its Golden Eagles.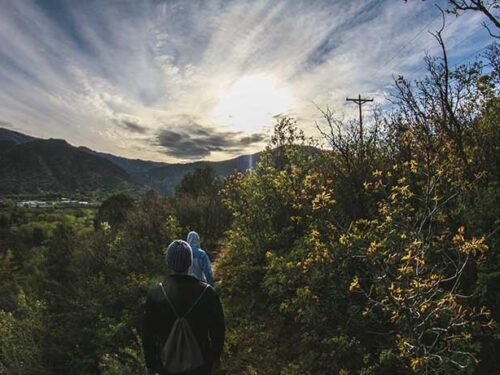 Running through Buchanan State Forest, and just 3/4 miles from River Mountain, is Pennsylvania's Trail of the Year — The Mid-State Trail. The trail stretches 327 miles from Maryland to the New York border, crossing through the heart of Pennsylvania with some of the most scenic views overlooking Black Valley.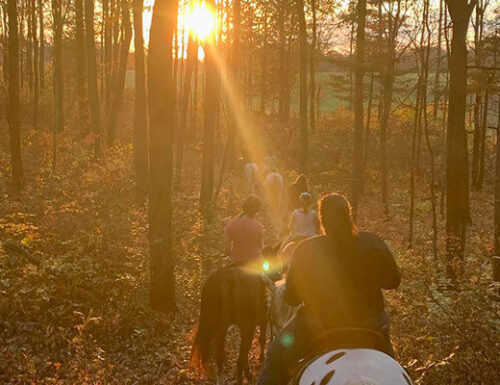 Hit the trails on horseback! A truly memorable experience, this has been a guest favorite since we first opened. Horseback riding is open to those over 8 years old. Happy trails are in your future!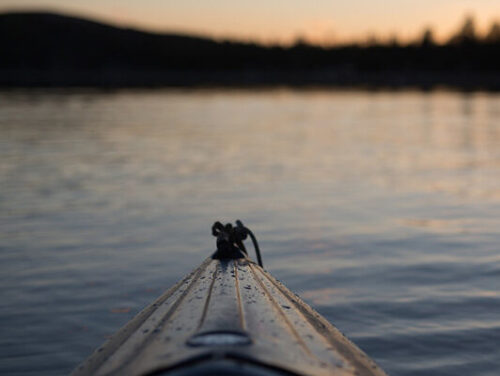 Rocky Gap State Park is a gorgeous mountain lake just south of River Mountain in Maryland. The WheelzUp Outfitters rent canoes, stand-up paddleboards, and kayaks by the hour at the park and based on availability. Please contact WheelzUp for more information and to check availability.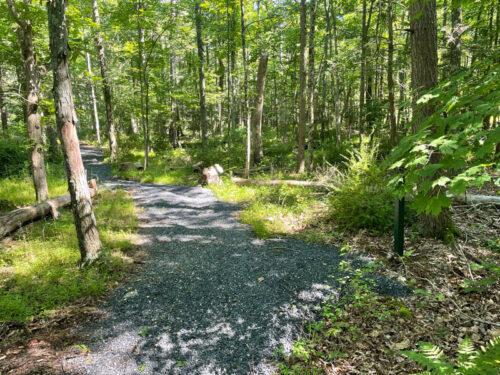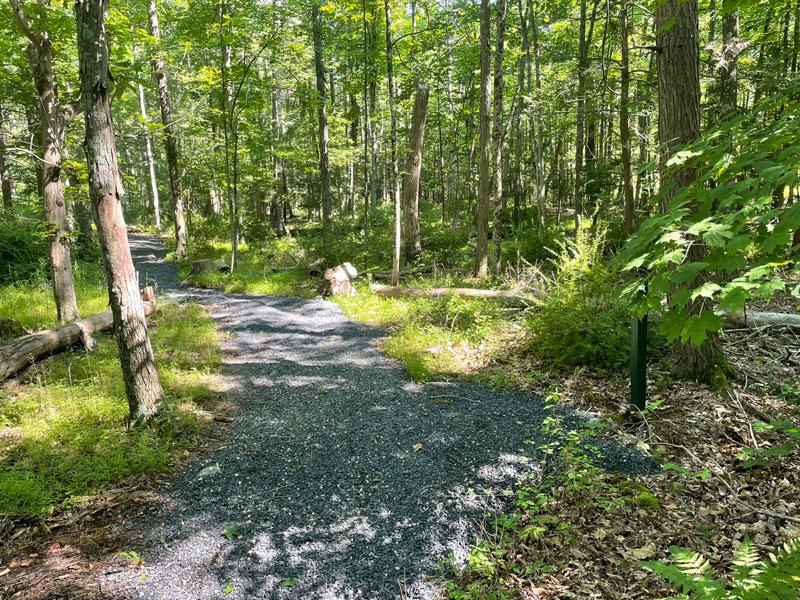 The Point Pleasant Nature Trail is just south of River Mountain, a 5 minute drive down Black Valley Road. This trail has recently been restored by the Southampton Historical Society. It is a loop trail located directly behind the old Point Pleasant two-room schoolhouse — 2023 marks the 150th anniversary of the Point Pleasant two room schoolhouse.  This trail is mostly flat and half of it stoned, it is a nice trail for the elderly and small children as well. The trail was originally created for the Chaneysville-Cove Elementary School, and was updated in the early 2000's by Christopher Gruitt as an Eagle Scout Project.  The trail today is in the best shape that it has ever been in.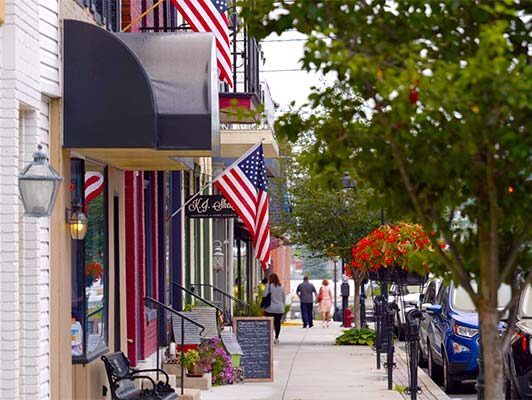 Take a ride to historic, downtown Bedford, PA – about 25 minutes north of River Mountain. This quaint downtown features boutique shops, restaurants, and Olde Bedford Brewing Company.
Take in the ridge and valley views at The Terrace – located just behind the Historic Old Log Cabin. We've got outdoor lawn games for kids and lounge space with happy hour for parents.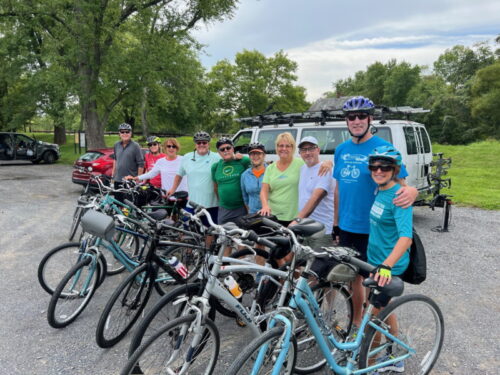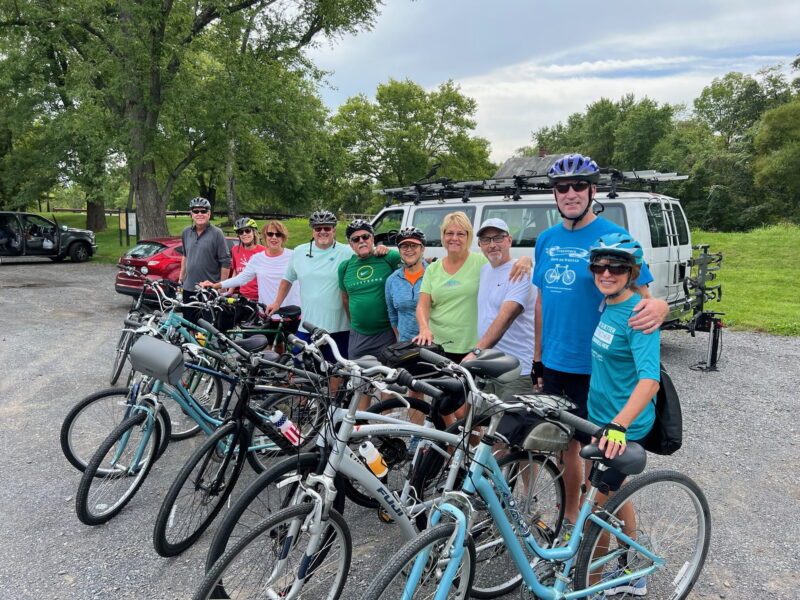 The Big Deal Bike Ride is one of the most popular bike rides and a must if you're looking to cruise and explore! Experience some of the best parts of the trail, highlights include: The Eastern Continental Divide, The Big Savage Tunnel, The Big Savage Overlook, the Mason Dixon line, Helmstetlers Curve and the Bone cave.  Did we mention the best part, it's all downhill – perfect for all members of the family.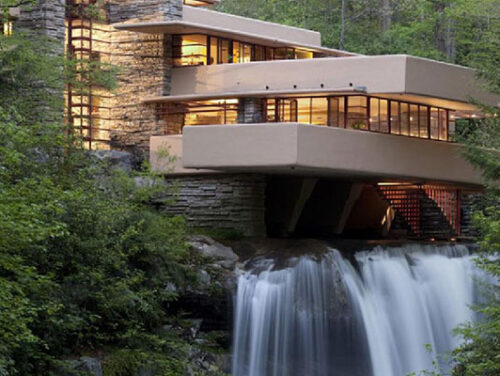 Fallingwater is a house designed in 1935 by renowned American architect Frank Lloyd Wright (1867-1959) for the Kaufmann family, owners of Pittsburgh's largest department store. One of Wright's most widely acclaimed works, Fallingwater exemplifies his philosophy of organic architecture: the harmonious union of art and nature.
Sign Up for Our Newsletter: