Escape Screen Time and Live in the Natural World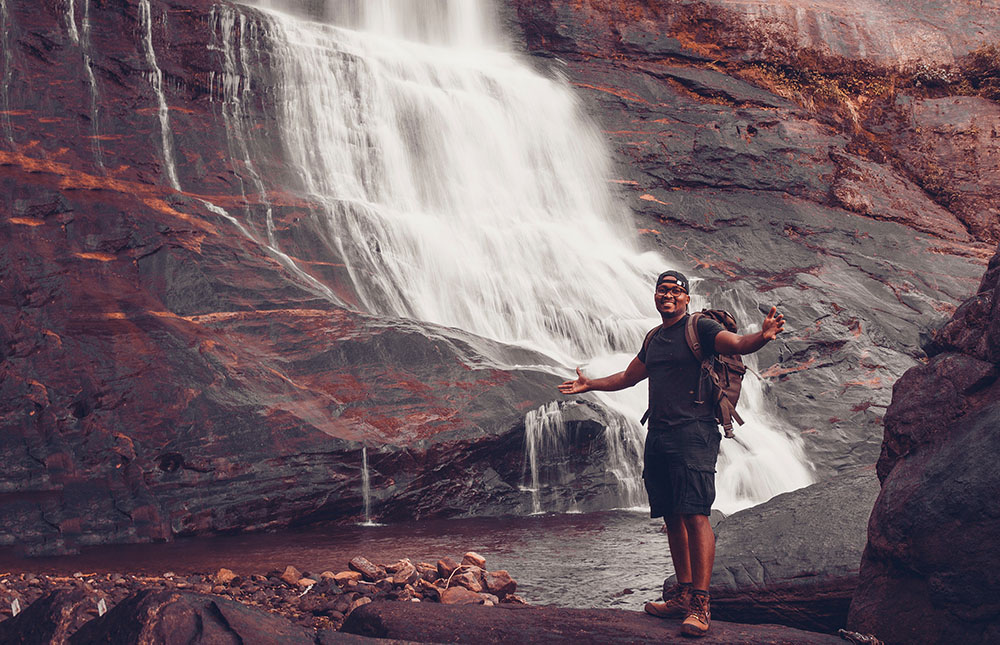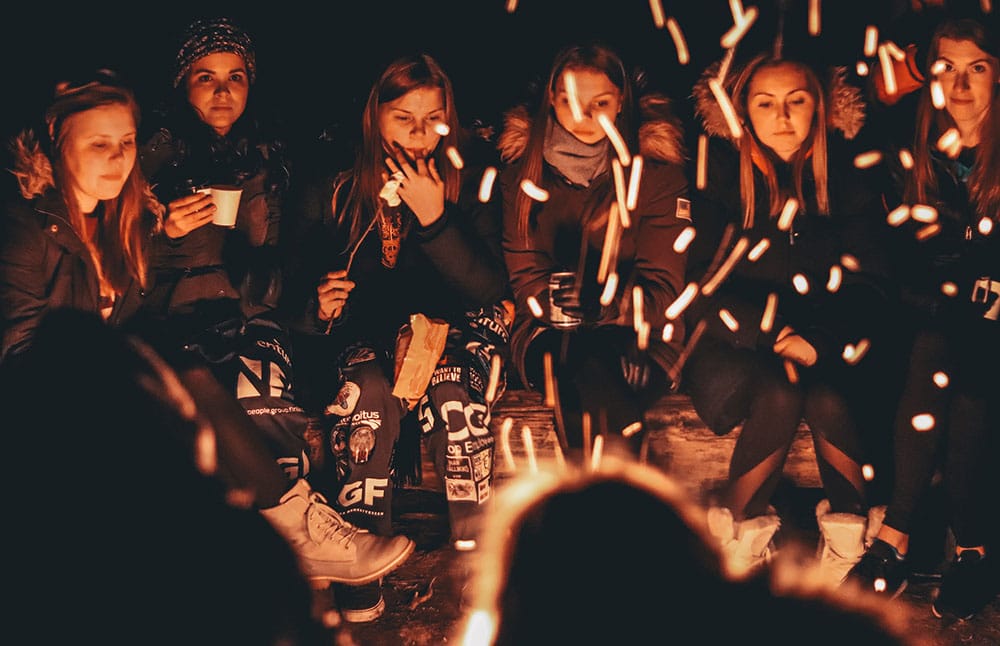 Replace screen time with outdoor adventure. Watch the sun set behind the ridge line, forge new friendships over the campfire, sleep under star-studded skies. 
Our cabins are designed in harmony with circadian rhythms. Our young guests wake with the sun as it rises over Warrior Ridge, and fall asleep gazing at the night sky and listening to the sounds of Sweet Root Creek.
Accommodations include organic cotton sheets and blankets, down comforter, organic towels, and natural eco-friendly bath products. Fresh linens, laundry, and cleaning services are provided by our staff.
Good food is essential to any great adventure. At River Mountain, our chef delivers high-quality, kid-friendly meals that will exceed even the pickiest of eater's expectations. Organic and locally sourced whenever possible, meals are planned to ensure our young guests are happy, healthy, and well-fed for the adventures of the day.
Whether taking in the morning light over breakfast or discussing the day's events at dinner in our 1800's old log cabin, meals at River Mountain are oriented around conversation, laughter, and engaging with one another.
Food Allergies & Guest Preferences
Our kitchen and staff accommodate allergies, dietary restrictions, and individual guest preferences. We'll request relevant information during the reservation process, prior to arrival. Call us with any questions or concerns.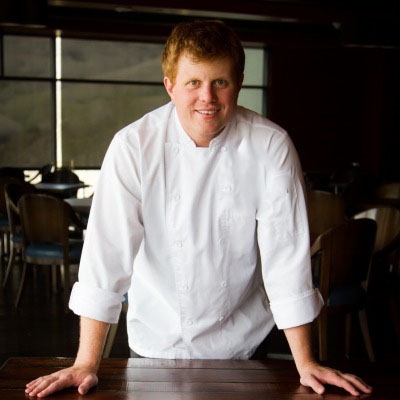 Get outside, challenge yourself, find independence, and have fun!
Orienteering & Hiking
Star Gazing
Caving
Mountain Biking
Forest Bathing
Canoeing & Kayaking
Barn Basketball
Horseshoes & Bags
Snowshoeing
Cross Country Skiing
Fishing
Creek Snorkeling
Bouldering & Rock Climbing
Indoor Climbing Wall
Low Ropes Course
Yoga & Meditation
Bonfire Discussion
Hike-In camping
Disc-Frisbee Golf
Spikeball
Journaling
Ping Pong, Pool & Foosball
River Mountain is located next to Buchanan State Forest in the heart of the Allegheny Mountains of southern Pennsylvania. Our campus stretches across Black Valley at the base of Tussey Mountain, along the banks of Sweet Root Creek.
We offer round-trip, private shuttle service from the Washington D.C., Baltimore and Pittsburgh metro areas. Relax knowing that your child is safely and comfortably on their way to an unforgettable experience.
We are located a few miles south of Everett, Pennsylvania, just a few hours drive from Washington D.C., Baltimore, Pittsburgh, and Philadelphia.
Our Address
River Mountain Retreat
3600 Black Valley Rd, Everett, PA 15537
View on Google Maps
Drivers please note: GPS-based map directions are sometimes incorrect. This can be further complicated by weak cell service in our beautiful mountains. Please do not assume that your GPS is correct! Instead, please download the directions below. Thank you!
Safety of our guests is always our top priority. Our guides and on-site staff receive frequent, ongoing medical and outdoors safety training. In addition to meeting state and federal requirements for their positions, all of guides are certified in Wilderness First Aid and many are Wilderness First Responders.
We know that the decisions we make today affect the lives of our children tomorrow. Our facilities are energy efficient and designed to minimize impact on the land. Our foods are organic and locally sourced whenever possible.
From facilitating group discussion to leading daily adventures, our professionally trained and certified staff members are the heart of River Mountain. Everyone at River Mountain strives to inspire positive change in young people.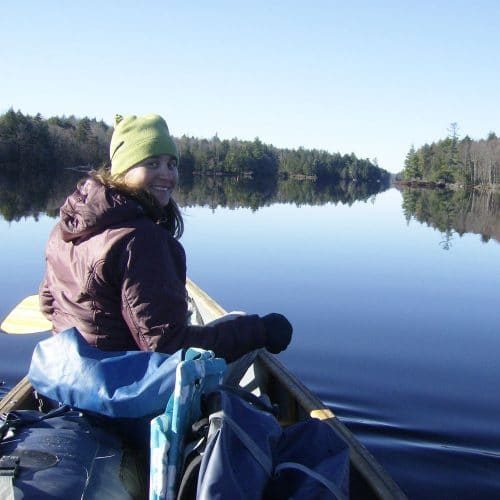 Liz Buhrman is River Mountain's Executive Director. Liz and her family live in the 'old farmhouse' at the retreat. Liz is the first person to greet all of our new guests upon arrival, and she takes special pride in making all of our young guests feel as comfortable as possible, as quickly as possible, on Day 1. In addition to overseeing all River Mountain operations and guiding daily adventures, Liz leads many of our tech talks during dinner and around the campfire. In her spare time, Liz enjoys mushroom foraging, sitting by the campfire, cooking, and cheering on Penn State football with her family.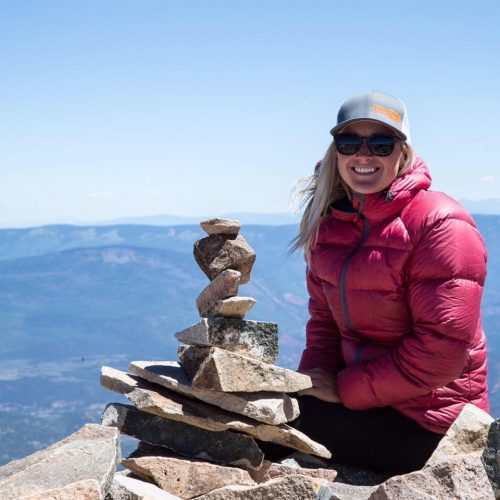 Meghan Gruszynski leads River Mountain's growth and community outreach. Meghan hails from the great state of Wisconsin where she grew up with a love for the outdoors, adventure and family. As a child, she spent summers on Rock Lake waterskiing and winters ski racing in the UP. Meghan's upbringing has been the foundation for her career in the active industry, where she loves seeing firsthand how shared outdoor experiences grow the connections we have with one another.
Ryan Tyrrell is River Mountain's founder and resident crawdad catching expert. Ryan grew up outside Nashville, TN., where he first discovered his love for the creeks and rivers of middle Tennessee at a young age. Nowadays, he shares his love of canoeing, fishing, and spending time on the river with his wife Marnee and two sons, Will (14) and Hayes (12). Ryan passionately believes in the mission of River Mountain and helping as many young people as possible achieve a more healthy relationship with technology and a love of the great outdoors.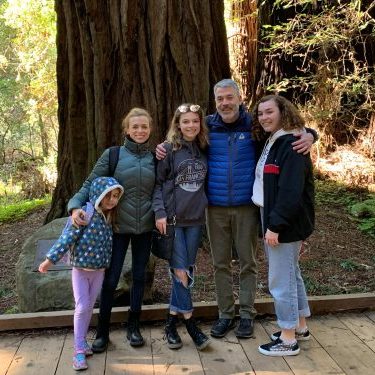 As the operations guy for River Mountain, Brandon Rauch is bent on making every experience as fun and exciting -- and as safe and comfortable -- as can be. Growing up near downtown Memphis, TN, Brandon was an urban adventurer first -- but quickly found his way into the woods of the nearby Mississippi and Wolf River river bottoms, where he has always felt at home. He's the father of three daughters, Iris (8), Lucy (13), and Evie (15), with whom he and his wife Jennifer share their love of adventure and the outdoors.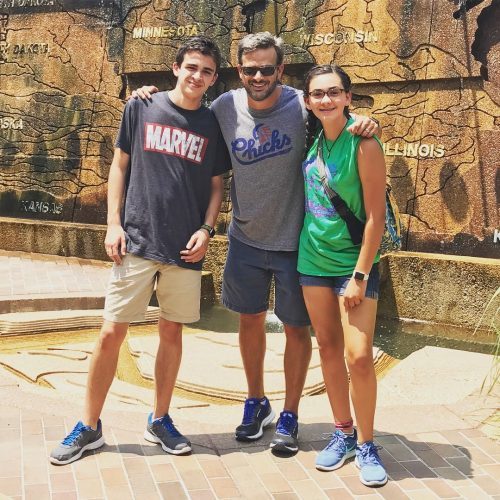 An avid hiker, runner and cyclist, Glenn Hopper believes the best way to see the outdoors is at a high rate of speed with the wind at your back and sweat in your eyes. When he is not staring at Excel spreadsheets and pivot tables in his finance role at River Mountain, Glenn enjoys obstacle racing and spending time with his family. He attributes his love of nature and wandering spirit to what he calls his own "free range childhood," where he and his Huffy bicycle frequently wandered far afield. While times have changed since then, Glenn still encourages his children to occasionally stray from the beaten path.
Sign Up for Our Newsletter: