Under the Full Moon: A Yoga and Acupuncture Retreat
Nestled amidst the serene embrace of nature's beauty, our Yoga and Acupuncture Retreat offers a transformative escape from the demands of modern life. This harmonious retreat is designed to rejuvenate your mind, body, and soul, guiding you toward a profound state of equilibrium. Yoga: Immerse yourself in the gentle flow of yoga as you explore a diverse range of practices, from restorative and vinyasa to yin and meditation. Guided by seasoned yoga instructors, each session is crafted to facilitate self-discovery, enhance flexibility, and cultivate a deep sense of inner peace. With the breathtaking backdrop of nature, you'll embrace the present moment, unifying breath, and movement. Acupuncture: Enrich your experience with the ancient wisdom of acupuncture, a practice rooted in Traditional Chinese Medicine. Our expert acupuncturist will skillfully balance your body's energy pathways, promoting healing, relaxation, and overall well-being. The gentle insertion of fine needles stimulates the body's innate capacity to heal, leaving you with renewed vitality. We will be nestled in a tranquil oasis, surrounded by lush greenery, where the chirping birds and rustling leaves become your backdrop. The serene environment is a canvas for your journey toward inner harmony and self-discovery. Whether practicing yoga in an open-air pavilion or enjoying quiet moments of reflection by the river, every inch of this retreat is designed to inspire a sense of peace. Begin your days with revitalizing morning yoga, embracing the energy of a new day with intention and gratitude. As the sun sets, engage in contemplative practices encouraging mindfulness and deep introspection. These moments of stillness allow you to connect with your inner self and the natural world in profound ways. Underneath the vast canopy of stars, gather around a cozy bonfire for heartwarming conversations and shared stories. Forge connections with fellow participants as you collectively embrace the retreat's transformative
FRIDAY, August 16 - Tuesday, August 20, 2024
All-Inclusive
5-Days, 4-Nights
All-Inclusive Glamping Pod for One Person - $1,530, plus taxes and fees.
25% Deposit to reserve today - remaining balance charged 30 days before your retreat!
Katie Us
L.Ac., Dipl. Ac.
The facts: My name is Katie and I am a licensed acupuncturist in New Jersey, New York, Pennsylvania, and Louisiana. (I am slowly collecting them all.) I also have my Diplomate in Acupuncture from the National Certification Commission for Acupuncture and Oriental Medicine (NCCAOM). This means I took a bunch of board exams and continue to take many continuing education classes to keep my licenses current. I got my undergraduate degree from Douglass College at Rutgers University where I majored in American Studies. Acupuncture and Chinese Herbal Medicine was a natural transition, right?
The fun stuff: I am high-key obsessed with helping my patients get out of pain, regulate their periods, help them conceive, prepare them for labor, address the psycho-emotional issues that life causes, and decrease their stress. That's why I'm all about the #freenaps in my office. When I'm not encouraging my patient's bodies to heal, I am out exploring new places with my husband, snuggling my five animals, getting a new tattoo, dying my hair bright pink, refinishing and painting furniture, going to yoga, or watching my favorite tv shows (Hello, Schitt's Creek and Law and Order: SVU!)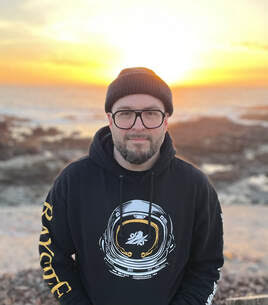 David Us
David Us is a 500-hour registered Yoga teacher and a Reiki Master level practitioner. After twenty-five-plus years in the art world, he found a consistent yoga practice as an outlet for the pressures of corporate work. He did his 200-hour yoga training at Hot Yoga Revolution in Cranford, NJ, and his 300-hour yoga training at AMP Yoga in Springfield, NJ, and is certified through the National Yoga Alliance. Through these, he has developed a teaching style that keeps it moving. He loves to create an organic flow that is accessible to all while also being challenging. He enjoys focusing on core alignments while encouraging movement with the breath. He has done further training on the history of yoga and its lineage and takes self-study classes with the International Sivananda Yoga Vedanta Centres. He deeply respects the roots of yoga and enjoys sharing what he learns in his classes.
When he is not working in the corporate Art world or doing yoga, he can be found playing video games, taking care of his zoo of animals, or exploring new places with his wife.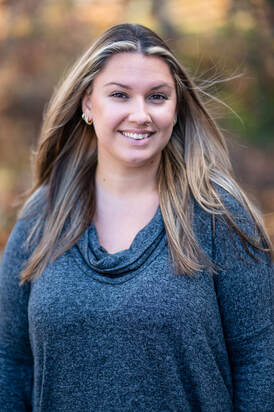 Abrianna Rossi
Abrianna began exploring her yoga practice in 2017. Starting this journey with a close circle of friends, weekly classes were a way for them to spend time with each other and get some physical activity in. After uncovering the positive impact yoga had on her mental health, Abri decided to complete her YTT with Tula Yoga in Aberdeen, NJ.
She received her 200hr certification in June 2020, becoming a RYT200 member of the Yoga Alliance. Since then, Abri has completed her certification in Mindful Resilience for Trauma Recovery with Veterans Yoga Project, supporting the veteran community and those who experience PTS(d). She has also joined the VYP organization as the NJ Area Manager & Teacher Alliance Member. Abrianna has most recently earned her certification in Yoga for TBI Level 1 with the Love Your Brain Foundation, which serves those who have experienced traumatic brain injuries. She currently teaches yin yoga, warm stretch, and mindful movement for veterans at Alluem Yoga in Cranford, NJ.
Abri's family and community inspire her to continue to create accessibility to the practice and awareness of the multitude of benefits that yoga has to offer. She is a plant collector, gentle movement enthusiast, and proud cat mom to "Stinky Max".
Wellness with Nature
Resting on 150 acres, River Mountain is bordered by Sweet Root Creek, Warrior Ridge and Tussey Mountain. River Mountain's stunning spaces are designed for reflection, mindfulness, and good vibrations on your self-care journey. Creekside yoga platforms, a restored barn turned wellness space, and the calm of nature make this the ideal destination for peace and wellness.
Located just a few hours from D.C., Baltimore, and Pittsburgh, in the mountains of Pennsylvania, River Mountain is remote yet easy to access.
Warrior Path
Running parallel to River Mountain's eastern ridge is Warriors Path, the great Iroquois Indian highway from Six Nations country, New York, to the Catawba country in the Carolinas. The historic path along Sweet Root Creek was one of the longest and most heavily traveled land routes in eastern North America, connecting Indigenous peoples over hundreds of miles.
The Underground Railroad
Black Valley was an active route along the Underground Railroad. Local histories principally credit four, free black residents with leading the aid network in this area: Rev. John Fidler, Elias Rouse, Joseph Crawley, and James Graham. Just to the south of the River Mountain property are 13 unmarked graves of enslaved people who died traveling the route to freedom.
Glamping Pods
Modern Design to Align with the Body's Circadian Rhythm
Standard Glamping Pod - Sleeps 1 Guest
Located in Cabin with Other Retreat Guests
Expansive Deck with Patio Seating
Top Pod Skylights to Fall Asleep to the Stars
Bedside Windows to Nature
Nestled Among Trees, Meadow + Creek
Mountain Views of Warrior Ridge
Under the Full Moon: A Yoga and Acupuncture Retreat
FRIDAY, august 16 - tuesday, august 20, 2024
All-Inclusive Retreat
5-Days, 4-Nights
All-Inclusive Glamping Pod for One Person - $1,530, plus taxes and fees.
25% Deposit to reserve today - remaining balance charged 30 days before your retreat!
Retreat Inclusions
All Retreat Experiences
150 Acres of Nature
Accommodations
Daily Meals - Breakfast, Lunch, Dinner
Access to Hot Soaking Tubs
Campfire + S'mores
Daily Housekeeping
Fresh Linens, Towels, Blankets
Fiber Internet Wi-Fi
Check-In After 3PM
Check-Out By 11AM
Retreat Policies, Payments, Deposit, and Cancellations:
DOGS ARE NOT PERMITTED ON RETREATS. This is for the safety and wellness of the dog and other guests joining the retreat.
25% non-refundable deposit to reserve. The remaining balance is automatically charged 30 days prior to the retreat start date using the initial card on file used to make the reservation and deposit. If reserving within less than 30 days of retreat start date, the remaining balance is automatically charged within 48 hours after reservation is made.
Please note that because River Mountain retreats are limited to a small number of attendees, to allow for a more personable, intimate experience, our cancellation policy is in place to help guests, hosts, and us alike work together sharing expenses that may arise from unexpected cancellations.
• All deposits are non-refundable.
• Full balance is automatically charged 30 days prior to retreat start date, unless otherwise noted.
• Cancellation requests submitted more than 30 days from retreat arrival date, non-refundable deposit due.
• Cancellation requests submitted less than 30 days from retreat arrival date, full balance is due.
• Any refunds allowed will incur a 3% processing fee.
No one books a retreat with the intention of cancelling it, but unexpected events do occur. Please know that our cancellation policy is designed to mitigate damages and costs incurred to retreat hosts and River Mountain in order to maintain the retreat experience and affordability for other retreat guests. Exceptions cannot be made for any reason, including weather, injury/illness, or personal emergencies. No refunds or credits for failure to attend or failure to complete the retreat, or for arriving late or leaving early.
For reservations or general questions
Sign Up for Our Newsletter: