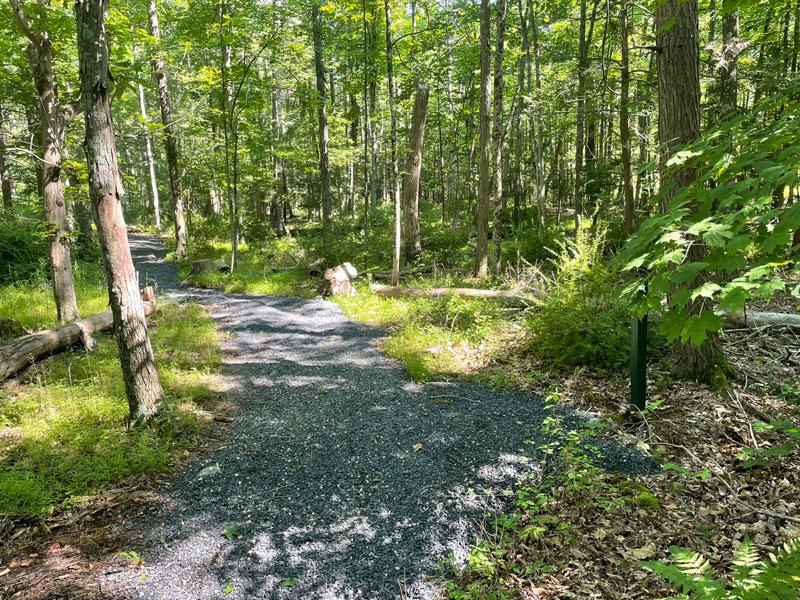 Point Pleasant Nature Trail
The Point Pleasant Nature Trail is just south of River Mountain, a 5 minute drive down Black Valley Road. This trail has recently been restored by the Southampton Historical Society. It is a loop trail located directly behind the old Point Pleasant two-room schoolhouse — 2023 marks the 150th anniversary of the Point Pleasant two room schoolhouse.  This trail is mostly flat and half of it stoned, it is a nice trail for the elderly and small children as well. The trail was originally created for the Chaneysville-Cove Elementary School, and was updated in the early 2000's by Christopher Gruitt as an Eagle Scout Project.  The trail today is in the best shape that it has ever been in.
The trail includes is a stone gravel path, a new leg that goes to an old grist mill foundation, native grass and plantings, access to a native brook trout stream, and site markers. The additional leg that was added this year to the grist mill foundation, which was erected in 1825 by Jacob Adams and his son William Adams.  It was in operation as of 1884, no one really knows when it was taken down and most locals didn't even know there was a foundation there.  Unfortunately there are no known pictures of this mill.
Click Here for Directions to the Point Pleasant Nature Trail and Schoolhouse
View and Download the Nature Trail Brochure HerePoint-Pleasant-Trail