Please join us in hearing the lesser known, often repressed, accounts of The Underground Railroad and beyond.
Historians and local voices share personal accounts, stories passed down, and historical truths.
Be connected in acknowledgement of the history of Black Valley and The Underground Railroad.
Distinguished Guest and Leader
Garnell Washington
Dr. GE Washington holds a PhD in art education and a national reputation for innovative program development, community organizing, and creative curriculum happenings. GE is a seventh-generation Black farmer from Bedford PA and also offers over 18 years of experience as a professional facilitator and community activist. His performances and community organizing work have touched communities across North America, from housing projects in Chicago, Illinois to community development organizations in Grenada, and teaching institutes on the border at Nogales, Mexico. As a facilitator, he asks what happens to identities that are not accepted or perhaps not easily seen. He focuses on the micro-events that occur when we learn together and believes that the practice of analyzing micro-aggressions builds stronger, deeper relationships.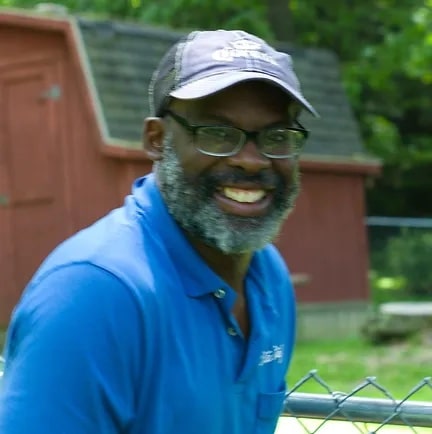 FRIDAY, JANUARY 12
3PM Arrival/Check-In
Social Hour + Dinner
SATURDAY, JANUARY 13
Continental Breakfast
Yoga
Lunch
Welcome - Historical Overview
Historical Hike
Social Hour + Dinner
Campfire
SUNDAY, JANUARY 14
Continental Breakfast
Morning Walk, Hike, Wander
Lunch
Personal & Historical Accounts
Conversations: Panel Discussion with Speakers, Q&A
Social Hour + Dinner
Honoring Navigating in Darkness
Campfire
MONDAY, JANUARY 15
Continental Breakfast
Book Club Discussion: The Chaneysville Incident by David Bradley
Lunch
$300 Per Person, 3 Nights
Rates include 3-nights accommodations, all discussions, all experiences, all meals, and all beverages.
MLK Weekend Guests Also Enjoy All River Mountain Amenities, Including:
Free, Unlimited Access to our Hot Springs Soaking Tubs
Private Campfires + S'mores
Free Sunset Happy Hour 5-6PM
Morning Coffee + Tea by the Fireplace in our 1807 Old Log Cabin
Access to 1.5 Miles of Hiking Trails on Property
For reservations or general questions
Sign Up for Our Newsletter: