Where Kids Disconnect
from Technology
And Reconnect with the World
Book Your Summer Camp Today
and Receive 10% Off
Developed in partnership with Penn State and Dr. Pete Allison, River Mountain is a new camp experience that replaces screen time with outdoor adventure.
Here at River Mountain, kids age 10-15 disconnect from technology and reconnect with the world around them, their peers, and most importantly themselves. Our outdoor adventure program empowers young people to achieve better tech-life balance, so they can flourish as kids today and become the leaders of tomorrow.

AGES 10-15
$945 with 10% discount code
SMALL GROUP SIZES - 60 CAMPERS TOTAL
ONE WEEK - SUNDAY TO SATURDAY
TRANSPORTATION PROVIDED
River Mountain one-week camps are focused on small group sizes with a maximum weekly camp size of 60 young people and a guide to guest ratio of 1:10. Camps are co-ed and open to all ability and skills levels for ages 10-15. We accommodate friends and groups traveling together with our cabin arrangements and breakout activities - just let us know. We are excited to welcome your child to camp this summer!
Sunday, June 21 - Saturday, June 27
Sunday, June 28 - Saturday, July 4
Sunday, July 5 - Saturday, July 11
Sunday, July 12 - Saturday, July 25
Sunday, July 26 - Saturday, August 1
Sunday, August 2 - Saturday, August 8
Sunday, August 9 - Saturday, August 15
Sunday, August 16 - Saturday, August 22
To complete enrollment, reserve through Campsite to create an account and select your camp session.
Canoeing
Mountain Biking
Rock Climbing
Hiking
Creek Snorkeling
Low Ropes Course
Caving
Backpacking
Fishing
Orienteering
Yoga
Meditation
Forest Bathing
Night Hiking
Campfire S'mores
Choice Activities
Leadership
Resilience
Attention
Focus
Communication
Relatedness
Empathy
Self Determination
Agency
Independence
Confidence
Problem Solving
Creativity
The Best Camp Accommodations
River Mountain's cabins are designed to sync with kids' natural circadian rhythm. The state of the art summer camp cabins feature floor-to-ceiling windows, skylights for star gazing, private showers, and the sounds of Sweet Root Creek flowing nearby.
River Mountain Visits Your Neighborhood
Upcoming Events Near Pittsburgh, Washington D.C., and Baltimore
Join us in your community for an open discussion and discovery of digital wellness. Our "fireside chats" are free for parents and cover topics pertaining to: the realities of screen time, the benefits of nature, River Mountain outdoor adventures for adolescents and teens, and tech-life balance back at home.
7:00pm - 8:00pm
Tuesday, March 24
REI Store - Settlers Ridge
600 Settlers Ridge Center Dr.
Pittsburgh, PA 15205
7:00pm - 8:00pm
Thursday, March 26
REI Store - Tysons
8209 Watson Street
McLean, VA 22102
7:00pm - 8:00pm
Wednesday, April 1
REI Store - Columbia
6100 Dobbin Rd, Ste B
Columbia, MD 21045
11:00am - Noon
Saturday, April 4
REI Store - Timonium
63 W Aylesbury Rd
Timonium, MD 21093
11:00am - Noon
Saturday, April 11
REI Store - North Bethesda
610 Rose Ave
North Bethesda, MD 20852
Liz Buhrman
Executive Director
River Mountain is led by Executive Director, Liz Buhrman. Liz and her family live in the 'old farmhouse' at the retreat. Liz is the first person to greet all of our new guests upon arrival, and she takes special pride in making all of our young guests feel as comfortable as possible on Day 1. In addition to overseeing all River Mountain operations and guiding daily adventures, Liz leads many of our tech talks during dinner and around the campfire. In her spare time, Liz enjoys mushroom foraging, sitting by the campfire, cooking, and cheering on Penn State football with her family.
Dr. Pete Allison
ASSOCIATE PROFESSOR, PENN STATE
River Mountain's curriculum and program journey have been developed in partnership with Penn State University, under the guidance of  Dr. Pete Allison. Dr. Allison is an associate Professor at Penn State University, Director of the Kurt Hahn Consortium for Values and Experiential Learning, and a respected authority on the study of values, youth development, and experiential learning. Throughout his career, Dr. Allison has worked with internationally recognized outdoor adventure and experiential learning providers to develop programs that have a life long impact on individuals.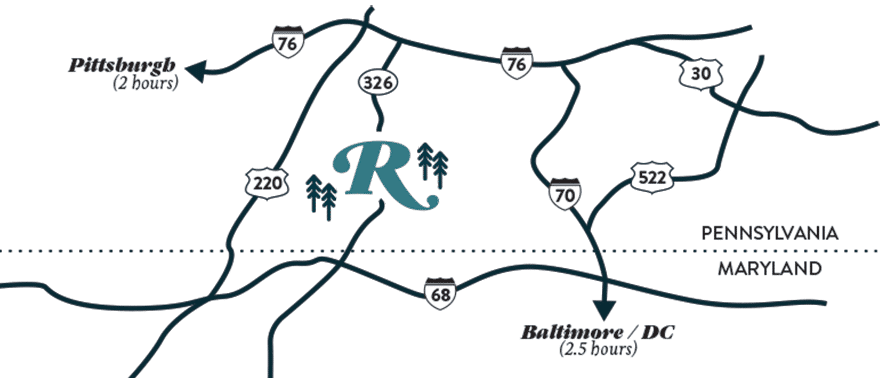 Near DC, Baltimore & Pittsburgh
River Mountain is situated on 148 acres in the mountains of Pennsylvania, in Bedford County. River Mountain's camp is near to Washington D.C, Baltimore, and Pittsburgh. To best serve the metro areas' families and kids, River Mountain offers complimentary shuttle service, arranged during the reservation process.
Awesome Food
The food is amazing, your kids will rave about it. We're all about delicious, tasty meals that are organic and locally sourced whenever possible. We make sure you've got enough fuel for the day's adventures. And hey, if you don't like a specific food, let us know in advance. If we know prior to your visit we will plan delicious alternatives.
Sign Up for Our Newsletter: