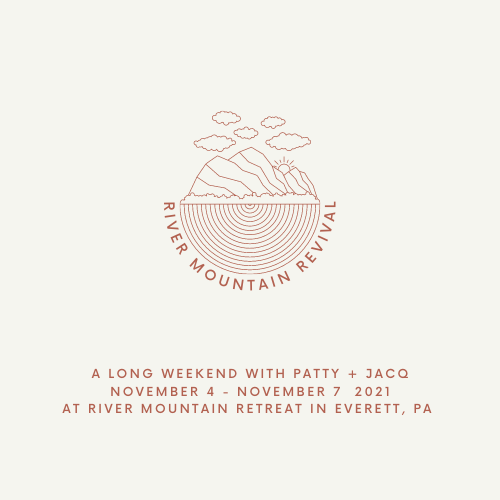 Join Patty Boyle and Jacqueline Griffiths at River Mountain for a long weekend revival this November. Enjoy six yoga and meditation practices, group meals, a community bonfire, and plenty of free time to explore the great outdoors. All classes are open level and optional. All accommodations are single occupancy within shared space. Adult only.
Join us Thursday, November 4th - Sunday, November 7th.
All-Inclusive Retreat Package
$675 per person
Accommodations include a standard glamping pod for one person.
$1760 for two people
Accommodations include a glamping tent for two people.
About Patty
Patty Boyle (she/her) is a certified Yoga Instructor & Licensed Massage Therapist with additional certifications in Child's Yoga and Pre-natal Massage. When teaching yoga, Patty aims to create a calm and light-hearted environment for students to explore their own individual practice.  Depending on the class, students may encounter challenging flows and asanas or gentle movement and meditation. Either way, students are encouraged to go-inward, quiet the mind, allow self-exploration and build awareness, while practicing self-compassion.  Patty offers gentle hands-on assists throughout class that encourages proper alignment or a deeper exploration of the pose. When not practicing or teaching, Patty is often outdoors. She loves hiking, traveling, music, dancing, coffee and reading. During covid, she learned to embrace slowing down and has incorporated more relaxation, down time and reading into her everyday life. Learn more about her offerings: https://pattyboylewellness.com/
About Jacq
Jacqueline Griffiths (she/her) teaches yoga and instinctive meditation classes that are life-affirming, welcoming, and vibrant. Her yoga practices are infused with instinctive meditation doorways inspired by the Radiance Sutras plus other influences from over 1,000 hours of training and 2,000 hours of teaching. She mainly studies with Camille Maurine and Lorin Roche and last year she created a 28 Day Yoga + Meditation Program, The Brilliance of Being. Her classes are designed to feel good and reinforce doorways into meditation and electric acceptance. When she isn't teaching or studying, she's hiking, on a board (surf, paddle, balance, or snow), loving up on her kitty and dog, and staying sober. Jacq lives in Philadelphia and will be announcing live classes soon. Learn more about her offerings: http://www.earthandgoldwellness.com/
Please know that Patty and Jacq are offering (2) partial scholarships to the retreat, to apply please reach out to
Resting on 150 acres, River Mountain is bordered by Sweet Root Creek, Warrior Ridge and Tussey Mountain. River Mountain's stunning spaces are designed for reflection, mindfulness, and good vibrations on your self-care journey. Creekside yoga platforms, a restored barn turned wellness space, and the calm of nature make this the ideal destination for peace and wellness.
Located just a few hours from D.C., Baltimore, and Pittsburgh, in the mountains of Pennsylvania, River Mountain is remote yet easy to access.
Glamping Pod in Shared Cabin Features
Modern Design to Align with the Body's Circadian Rhythm
Standard Glamping Pod - Twin Size Bed - Sleeps 1 Guest
7' x 7' Private Pod with Curtain Closure
Expansive Windows
Natural Light
Nestled in the Peace of Black Valley
Epic Mountain Views of Warrior Ridge
Bedding, Linens + Towels
Shared Bathrooms
Filtered Water
Fiber WiFi Internet
For Two Retreat Guests
Two Queen Beds
Picturesque Views of Tussey Mountain
Exterior Door Opens to Meadow Views
Heated
Portable Charging Station
Bedding, Linens + Towels
Shared Indoor Bathrooms + Showers Nearby
Filtered Water Nearby
Fiber WiFi Internet
Fridge, Freezer + Microwave Nearby
All-Inclusive Retreat Package
$675 per person
Accommodations include a standard glamping pod for one person.
$1760 for two people
Accommodations include a glamping tent for two people.
Retreat Package Includes:
All Retreat Experiences
All Meals
Breakfast Friday, Saturday + Sunday Morning
Lunch Friday + Saturday
Community Dinner Thursday, Friday and Saturday Evening
Accommodations Thursday, Friday and Saturday Night
Daily Housekeeping
Fresh Linens, Towels, Blankets + Water
Parking
Arrival - Thursday, November 4th from 3PM - 7PM
Departure - Sunday, November 7th at 11AM
**If you're interested in attending with your partner, please contact us directly to reserve a queen-size pod.
Deposit + Balance:
A 25% deposit is required at the time of booking, which is applied to the total amount. Remaining balance automatically charged October 4, 2021 or 48 hours after reservation is made if booking after October 4.
In the event of cancelation, the retreat will be rescheduled and guests may choose to attend the future retreat or be refunded.
For reservations or general questions
Sign Up for Our Newsletter: