Thursday, October 13th – Monday, October 17th
Join We Be Yoga for a four night five day stay at River Mountain for a full mind and body reset. This little yoga get away will offer everything one needs to unwind and turn in towards your innermost self. Each day we will offer two yoga classes, meditation, various activities (including Sound Bath Meditation) and free time to wind down and reflect. Come move, sit and laugh with us.
All-Inclusive

4-Night Retreat

GLAMPING POD FOR ONE: 4 Nights for $1,150

Space is Limited
Heather Petrosky + We Be Yoga
Join Heather Petrosky the owner of We Be Yoga and her co-hosts for a five day retreat! Yoga facilitates healing, balances our nervous systems and connects us with our true self. In 2018, Heather received her teaching certification from Blue Banyan Yoga School in Mt. Airy, Philadelphia from the magical humans named Sohpie Simpson, Jake Miller and Angella Irwin focusing on vinyasa yoga. She has been teaching full time ever since and opened her own studio a year ago, We Be Yoga. Blue Banyan was the place where she learned that yoga is really about community, and our connection to ourselves and others. She is currently enrolled in her 500hr RYT+ and continues to practice Svadhyaya, self study. It is Heather's greatest gift to teach the practices of yoga to her community.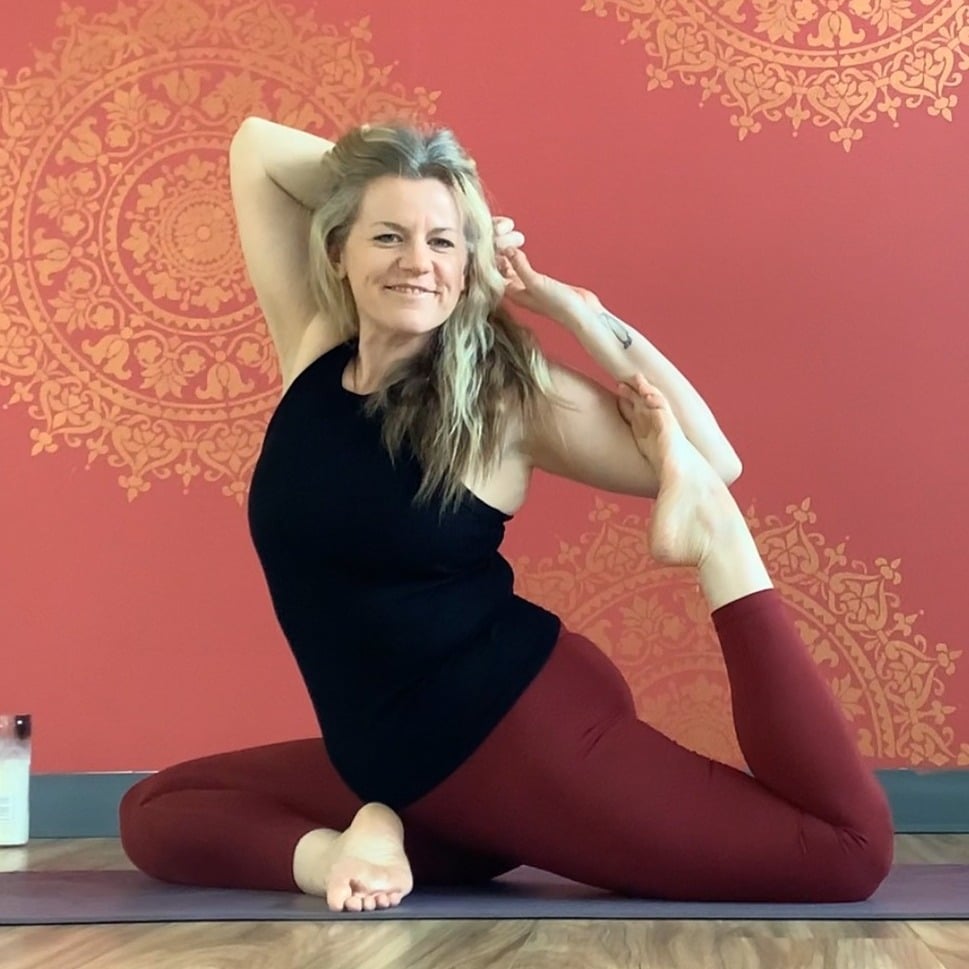 Morning and Evening Yoga
Hiking
Journaling and Discussions
Hammock Hang + Restore
Daily Breakfast + Dinner
Sunset Happy Hour Toasts
Evening Bonfires + S'mores
Stargazing
MODerN LUXURY IN THE GREAT OUTDOORS
River Mountain was designed as a place that could accommodate every aspect of our lives. An outpost where guests could have it all - time outdoors, time with others, time solo, and some time for remote work. Inspiring accommodations, thoughtful amenities, personal comforts, and unforgettable experiences. Welcome to modern luxury in the great outdoors.
Resting on 150 acres, River Mountain is bordered by Sweet Root Creek, Warrior Ridge and Tussey Mountain. River Mountain's stunning spaces are designed for reflection, mindfulness, and good vibrations on your self-care journey. Creekside yoga platforms, a restored barn turned wellness space, and the calm of nature make this the ideal destination for peace and wellness.
Modern Design to Align with the Body's Circadian Rhythm
Standard Glamping Pod - Sleeps 1 Guest
Expansive Windows
Natural Light
Nestled in the Peace of Black Valley
Epic Mountain Views of Warrior Ridge
Bedding, Linens + Towels
Located in Shared Cabin
2 Full, Private Bathrooms in Shared Cabin
Filtered Water
Fiber WiFi Internet
Baggage Service + Assistance to/from Cabins Available
All-Inclusive

4-Night Retreat

GLAMPING POD FOR ONE: 4 Nights for $1,150

Space is Limited
Included in Your Retreat Package:
All Retreat Experiences
Wellness Breakfast Friday, Saturday, Sunday, & Monday Mornings
Community Dinner Thursday, Friday, Saturday, & Sunday Evenings
Accommodations Thursday, Friday, Saturday, & Sunday Night
Daily Housekeeping
Fresh Linens, Towels, Blankets + Water
Parking

Arrival - Thursday, October 13th from 3PM - 6PM
Departure - Monday, October 17th at 11AM
25% Non-Refundable Deposit to Reserve Your Spot
Remaining balance automatically charged September 13, 2022. If the reservation is made after September 13th, the full balance will be charged within 48 hours of reservation date.
Retreat Policies, Payments, Deposit, and Cancellations:
DOGS ARE NOT PERMITTED ON RETREATS. This is for the safety and wellness of the dog and other guests joining the retreat.
25% non-refundable deposit to reserve. The remaining balance is automatically charged 30 days prior to the retreat start date using the initial card on file used to make the reservation and deposit. If reserving within less than 30 days of retreat start date, the remaining balance is automatically charged within 48 hours after reservation is made.
Please note that because River Mountain retreats are limited to a small number of attendees, to allow for a more personable, intimate experience, our cancellation policy is in place to help guests, hosts, and us alike work together sharing expenses that may arise from unexpected cancellations.
• All deposits are non-refundable.
• Full balance is automatically charged 30 days prior to retreat start date, unless otherwise noted.
• Cancellation requests submitted more than 30 days from retreat arrival date, non-refundable deposit due.
• Cancellation requests submitted less than 30 days from retreat arrival date, full balance is due.
• Any refunds allowed will incur a 3% processing fee.
No one books a retreat with the intention of cancelling it, but unexpected events do occur. Please know that our cancellation policy is designed to mitigate damages and costs incurred to retreat hosts and River Mountain in order to maintain the retreat experience and affordability for other retreat guests. Exceptions cannot be made for any reason, including weather, injury/illness, or personal emergencies. No refunds or credits for failure to attend or failure to complete the retreat, or for arriving late or leaving early.
For reservations or general questions
Sign Up for Our Newsletter: