Self-Care, Yoga, Wellness
Bringing you a little nature, calm, and chill vibe for the summer. Merging daily yoga classes, self-care based discussions, and activities along with an amazing glamping experience. We're offering a relaxing vibe for singles, couples, strangers and friends. Please join us Thursday, June 24th - Sunday, June 27th, 2021 for this wellness experience.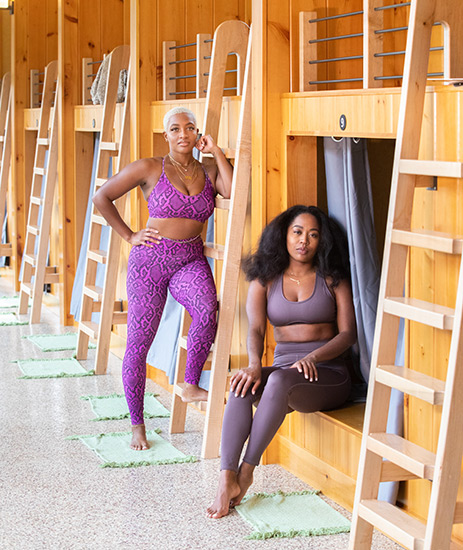 Guided by Urban x Söl
Tierra B + Michelle
Tierra and Michelle are licensed yoga instructors from the Washington, DC, area. Both have years of experience with coaching, class facilitation, and meditation guidance. Tierra has a deep passion for serving and supporting individuals throughout their journeys. Her space and presence is judgment-free, uplifting, and encouraging. Tierra understands everyone has goals, unhealed traumas, and stories to be told and wants nothing more than to be a vessel of light and beacon of hope for them. Through wellness, fitness, and mindfulness, Tierra wants to guide people through their individual transformations. Michelle provides classes that provide a deep connection into the physical body and breath, with a deep focus on alignment and logical movement. Michelle encourages her students to come to class as they are ready to move how they wish. Her classes often have a purpose or a thought to consider, she enjoys connection with a group environment to further dive into the individual in a supported way. 
Resting on 150 acres, River Mountain is bordered by Sweet Root Creek, Warrior Ridge and Tussey Mountain. River Mountain's stunning spaces are designed for reflection, mindfulness, and good vibrations on your self-care journey. Creekside yoga platforms, a restored barn turned wellness space, and the calm of nature make this the ideal destination for peace and wellness.
Located just a few hours from D.C., Baltimore, and Pittsburgh, in the mountains of Pennsylvania, River Mountain is remote yet easy to access.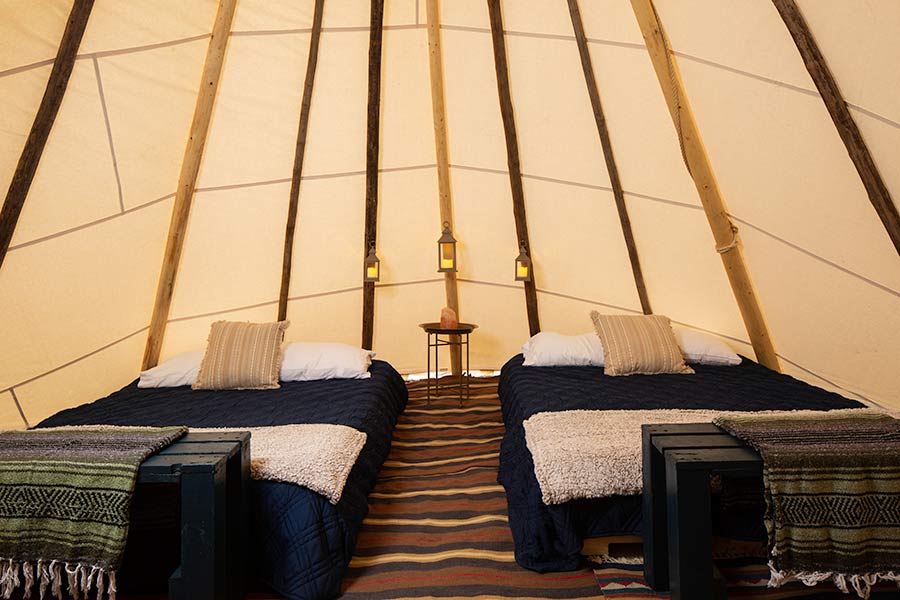 Complimentary Happy Hour Featuring Local Craft Beer + Wine
Private Bonfire
2 Queen Beds, Sleeps 1-4 Guests
Picturesque Views to Warrior Ridge + Warrior Path
Exterior Door Opens to Meadow Views
Located Near Common Area + Community Spaces
Close Proximity to Parking Area + Front Drive
Shared Indoor Bathrooms + Showers
Portable Charging Station
BBQ Charcoal Grill
Chill + Picnic Area
Filtered Water in Common Area
Access to 150 Acres of Land + Private Trails
Trip Planner + Concierge

Fiber WiFi Internet
ENO Hammocks
Morning Coffee in Log Cabin
Bedding, Linens + Towels
Access to River Mountain Community Spaces
Dog Friendly
Baggage Service
Glamping Pod in Shared Cabin Features
Standard Glamping Pod, Sleeps 1 Guest
Expansive Deck with Patio Seating
Top Pod Skylights to Fall Asleep to the Stars
Bedside Windows to Nature
Nestled Among Trees, Meadow + Creek
Mountain Views of Warrior Ridge
2 Full Bathrooms
BBQ Charcoal Grill
Mini-Fridge + Microwave
Filtered Water

Fiber WiFi Internet
ENO Hammocks
Nespresso Coffee
Bedding, Linens + Towels

Rates
Pay just a 25% deposit today to reserve your spot! The remainder is due on the first day of the retreat!
4 Day, 3 Night
Retreat Package
$670 per person
Accommodations include twin-bed glamping pod in shared cabin.
$823 per person
Accommodations include queen-bed in two-person, shared tipi. Roommate requests accepted, of course!
Price Includes:
All Retreat Experiences
Wellness Breakfast Friday, Saturday, and Sunday Morning
Community Dinner Thursday, Friday, and Saturday Evening
Accommodations Thursday, Friday, and Saturday Night
Icebreakers + Welcome Bags
Daily Housekeeping
Fresh Linens, Towels, Blankets + Water 
Parking
Arrival - Thursday, June 24th from 3PM - 7PM
Departure - Sunday, June 27th at 11AM
Worry-Free Reservation:
Pay Just 25% Today to Reserve Your Spot
Free Cancellation until May 24, 2021
**If you're interested in attending with your partner, please contact us directly to reserve a queen-size pod.
For reservations or general questions
Sign Up for Our Newsletter: