Stillness & Abundance in the Great Outdoors
Luxuriate in the great outdoors in this winter reset.
The intention for this retreat is embracing the Stillness and Abundance of the Great Outdoors. As we prepare for winter, taking time to balance our doshas as we enter a Kapha season, it is important to nurture our internal systems. Kapha season presents a time to slow down, take a deep breath and appreciate the natural world withdrawing and becoming dormant. There is a stillness in the air; this silence invites us to allow a subtle invitation to redirect our own energies. The calm and peaceful environment in which we will be sharing space is the perfect antidote to the fast-paced mobility of the fall.
During this retreat we will explore methods to cultivate a light heart and a sharp sense of purpose to counter the cold weather approaching. We will invite warmth into our mind, body and relationships while creating frequent opportunities for fun and laughter. This time of the year is an excellent opportunity to engage in meaningful relationships and to socialize while creating time for necessary quiet time and reflection.
Our accommodations were specially designed by award-winning architecture firm GWWO to align with our bodies' natural rhythms, helping us to readjust our circadian rhythms. Aside from our regular offerings of Vinyasa and Yin classes, our sessions will feature Yoga Nidra classes tailored to our intention of finding stillness and comfort in our body. These formal sessions will be enhanced by the beauty of our surroundings. Being in nature will allow us to truly disconnect from the stresses of daily city and suburban life, allowing us to reset our psyches and relax our bodies and minds. Partaking in activities such as forest bathing, stargazing and fire gazing will allow us to truly unwind.
All-inclusive 4-day, 3-night retreat
Thursday, November 9 - Sunday, November 12, 2023
Certified Integrative Yoga Therapist, E-RYT 2000, Reiki Energy Healer, Ayurvedic Counselor, Integral Sound Therapy Facilitator

Founder of Niyama Yoga & Wellness Studios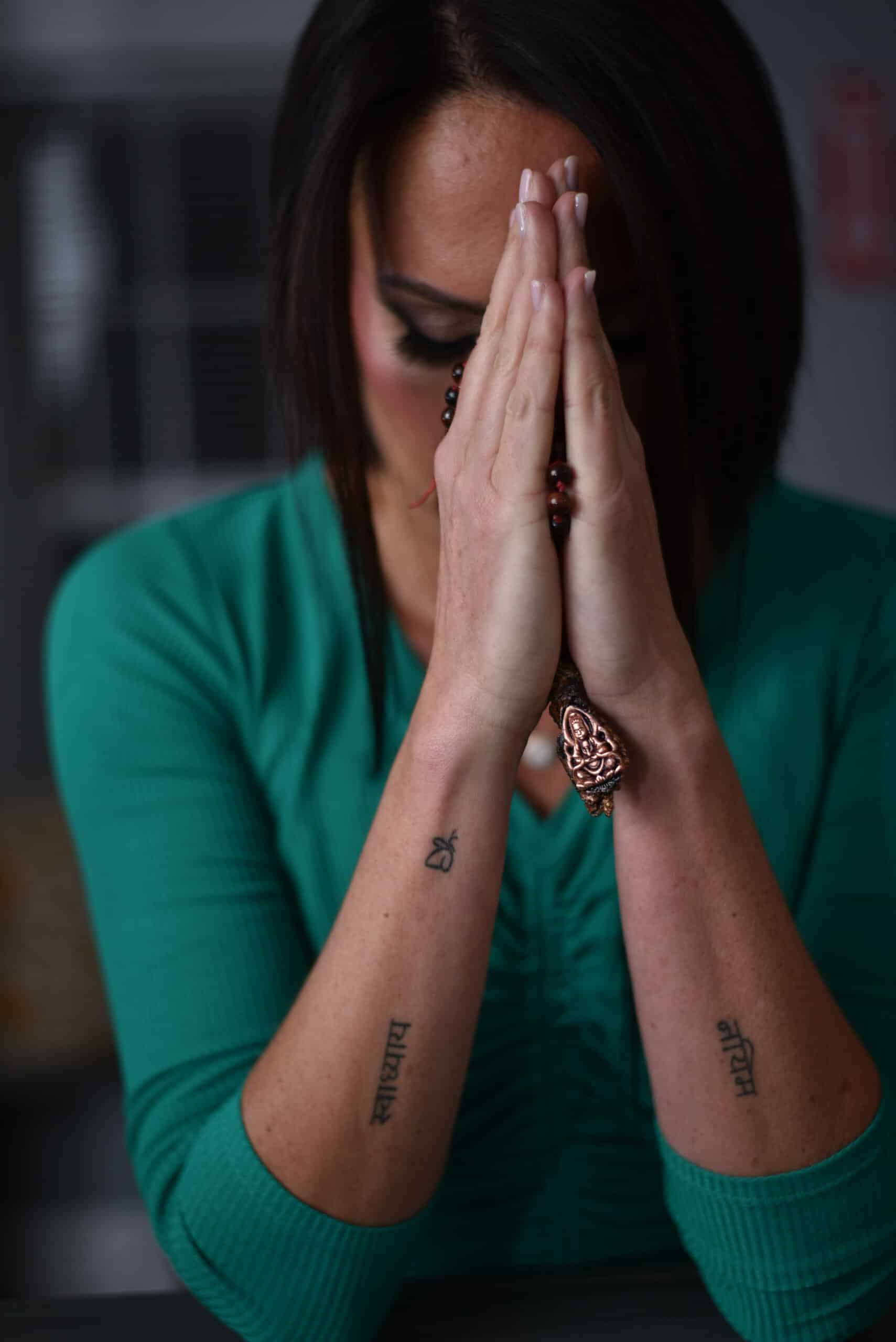 Nicole founded Niyama Yoga & Wellness Studios in 2007 and over the course of the past 14 years the business has expanded to three brick and mortar locations in New Jersey, Randolph & Sparta as well as Delray Beach, Florida.  After 23 years of working in Corporate America, Nicole decided to pursue her true calling in the wellness industry.  She has never looked back and feels honored to offer tools to others that will encourage health versus disease. All leading to true happiness.
Nicole's mission is to offer clients a life changing experience from the moment they enter this very special yoga studio in New Jersey.  Nicole's belief in proper education in Yoga, Ayurveda, Sound Therapy, Reiki, Crystal Healing, Skin Care and Overall Well-Being is evident in the level of expertise each of her tribe members have.  Niyama has a class A staff that is unmatched.  The true meaning behind the word "Shala" is embodied at Niyama Yoga Studios: education, education, education!
Nicole is passionate about teaching and encouraging others to find their dharma or purpose not only on the mat, but in their personal lives. When you visit Niyama expect to be challenged and encouraged to explore your own dharma.
Our mission statement at Niyama is Svadhyaya, which is the Sanskrit word for Self-Study.  This principle is one of the 5 Niyamas in yoga.  Self-study encompasses all that you will be introduced to from the moment you enter our Shala.
Resting on 150 acres, River Mountain is bordered by Sweet Root Creek, Warrior Ridge and Tussey Mountain. River Mountain's stunning spaces are designed for reflection, mindfulness, and good vibrations on your self-care journey. Creekside yoga platforms, a restored barn turned wellness space, and the calm of nature make this the ideal destination for peace and wellness.
Located just a few hours from D.C., Baltimore, and Pittsburgh, in the mountains of Pennsylvania, River Mountain is remote yet easy to access.
Glamping Pod in Shared Cabin Features
Standard Glamping Pod, Sleeps 1 Guest
Expansive Deck with Patio Seating
Top Pod Skylights to Fall Asleep to the Stars
Bedside Windows to Nature
Nestled Among Trees, Meadow + Creek
Mountain Views of Warrior Ridge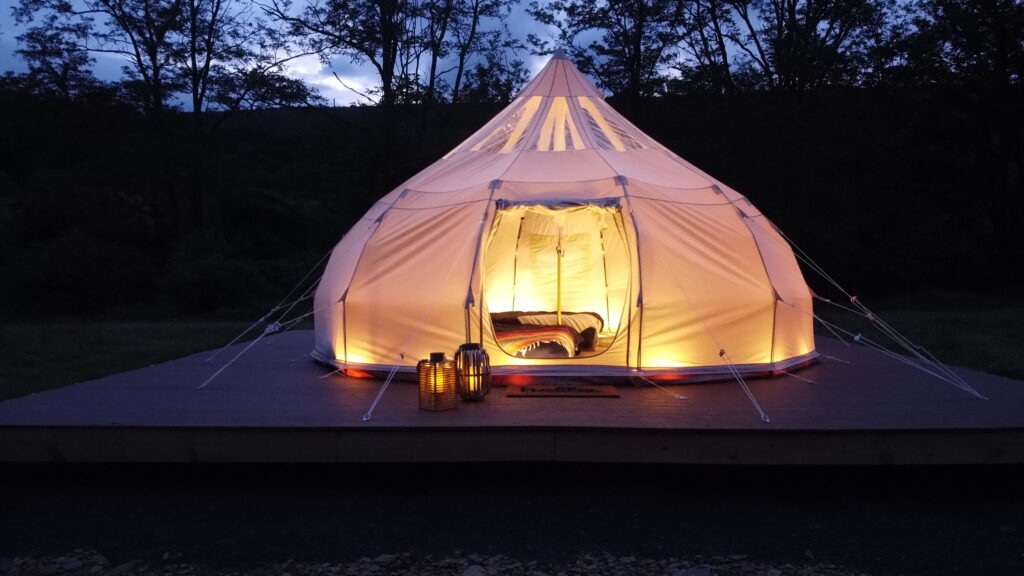 Two Queen Beds
Picturesque Views of Tussey Mountain
Exterior Door Opens to Meadow Views
Electricity + Heated
Bedding, Linens + Towels
Indoor, Private Full Bathrooms with Shower Nearby
Filtered Water Nearby
Fiber WiFi Internet
Fridge + Microwave Nearby
Stillness & Abundance in the Great Outdoors with Niyama Yoga
November 9 - 12, 2023
Thursday - Sunday
Retreat Inclusions
All Retreat Experiences
Accommodations Thursday + Friday + Saturday Nights
Wellness Breakfast Friday + Saturday + Sunday
Farm Table Lunch Friday + Saturday
Community Dinner Thursday + Friday + Saturday
Campfire + S'mores
Daily Housekeeping
Fresh Linens, Towels, Blankets + Water
Free Parking + Fiber Internet Wi-Fi
Arrival - Thursday, November 9th from 3PM - 7PM
Departure - Sunday, November 12th at 11AM
For reservations or general questions
Sign Up for Our Newsletter: