Fall Yoga + Hike Retreatwith Alicia Broudy and Friends
CONNECTION -- that's what this weekend is about. Connection to self. Connection to nature. Connection to others. Join us for a retreat to the mountains where we will take time away to reconnect and restore. This immersive weekend includes daily yoga practice, nature walks, good food and drink, free time to explore (or rest), and time spent around a campfire, together.
Join Us
Thursday, October 20 – Sunday, October 23
All-Inclusive
4-Day, 3-Night Retreat
FALL YOGA + HIKE RETREAT COVID POLICY
Vaccinations are required for all guests attending Fall Yoga + Hike Retreat. Thank you for your understanding.
60-Minute Full Body Massage
Enjoy your 60-minute massage therapy treatment with one of our partner massage therapists. An amazing solution for tension relief and stress reduction. A full body massage typically includes work on the face, jaw, head, neck, back, shoulders, arms, hands, hips, legs, and feet. You can decide to spend more time on certain areas than others or omit certain areas altogether, and your massage therapist will give you their recommendation of what to work on to help you reach your goals for the session. We'll work with the massage therapist and your retreat host to figure out the best time during your retreat.
Guided by Alicia Broudy + Friends
Alicia has been practicing and teaching yoga for over a decade. She completed a 200-hour yoga teacher training in 2015 and a Rocket Yoga certification in 2016, along with several continuing education hours in vinyasa yoga sequencing and anatomy. In recent years, hiking has become an extension of Alicia's personal yoga practice. She finds healing and restoration in nature. In May 2022, she completed a 10-day Mindful Outdoor Guide training at Kripalu Center for Yoga and Health. As a Mindful Outdoor Guide, Alicia weaves together yoga practices, grounding exercises, and meditative hikes for a fully immersive and sensory experience. Other influences include the writings of Thích Nhất Hạnh and Pema Chödrön, the poetry of Mary Oliver, and the research of Brené Brown. During this weekend, Alicia will lead guided meditations, mindful outdoor experiences, and a vinyasa-style class.
Nicole has been practicing yoga since 2000 and teaching Kripalu-based yoga and YogaRhythmics® since 2003. She believes that yoga is more than a series of movements. It's a way of life. As we practice humility, grace, breath, and compassion on the mat, those qualities nestle their way into our lives off the mat. Her classes are a mash-up of all the styles she has practiced over the last two decades, which weave together the philosophy of yoga with a sense of playfulness. When she's not practicing or teaching yoga, you can find her and her husband Mike on the soccer field cheering on their son Jack, walking her dog Cookie in Schenley Park, or curled up with a book by Glennon Doyle, Brené Brown, or Pema Chödrön. She will be teaching an open-hearted practice for all levels and offering a YogaRhythmics® dance party to enliven and invigorate mind, body, spirit and your inner child.
Rebecca has been practicing yoga since 2014, and she loves the feeling of connectedness with mind and body that it offers. Rebecca's personal yoga practice has been one of the most critical parts of her recovery from an eating disorder since 2016 and recovery from two knee surgeries over the past two years. It's helped her realize and appreciate her strengths, both mental and physical, and it's brought her together with many wonderful friends. Rebecca has been teaching yoga since 2019, and it's her goal to make everyone feel welcome and supported in each class. Yoga is for everyone. Rebecca teaches vinyasa and restorative classes, and she always offers options for everyone to get what they're looking for out of their practice.
Yoga + Meditation
Small Group Hikes
Mindfulness Exercises
Free Time to Explore (or Nap!)
Happy Hour Toast
Campfires + S'mores
Resting on 150 acres, River Mountain is bordered by Sweet Root Creek, Warrior Ridge and Tussey Mountain. River Mountain's stunning spaces are designed for reflection, mindfulness, and good vibrations on your self-care journey. Creekside yoga platforms, a restored barn turned wellness space, and the calm of nature make this the ideal destination for peace and wellness.
Located just a few hours from D.C., Baltimore, and Pittsburgh, in the mountains of Pennsylvania, River Mountain is remote yet easy to access.
Modern Design to Align with the Body's Circadian Rhythm
Standard Glamping Pod - Sleeps 1 Guest
Expansive Windows
Natural Light
Nestled in the Peace of Black Valley
Epic Mountain Views of Warrior Ridge
Bedding, Linens + Towels
Located in Shared Cabin
Shared Bathrooms
Filtered Water
Fiber WiFi Internet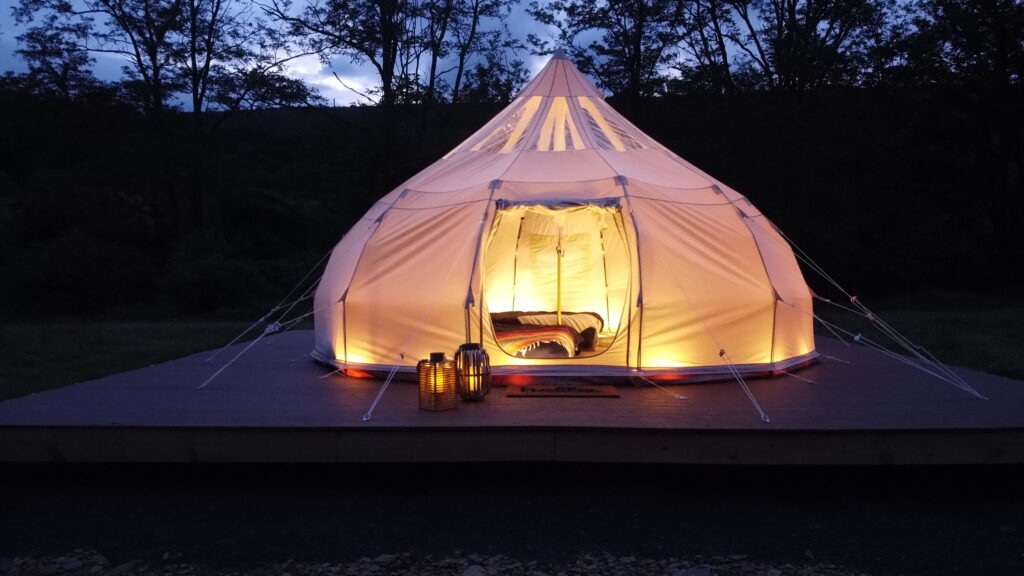 Two Queen Beds
Picturesque Views of Tussey Mountain
Exterior Door Opens to Meadow Views
Electricity + Heated
Bedding, Linens + Towels
Indoor, Private Full Bathrooms with Shower Nearby
Filtered Water Nearby
Fiber WiFi Internet
Fridge + Microwave Nearby
All-Inclusive Retreat
$700 PER PERSON, PLUS TAX Accommodations include a standard glamping pod for one person.
$1750 FOR TWO PEOPLE, PLUS TAX Accommodations include a private glamping tent for two people.
FALL YOGA + HIKE RETREAT COVID POLICY
Vaccinations are required for all guests attending Fall Yoga + Hike Retreat. Thank you for your understanding.
Included in Your Package:
All Retreat Experiences
Accommodations Thursday, Friday + Saturday Nights
Wellness Breakfast Friday, Saturday + Sunday
Farm Table Lunch Friday + Saturday
Community Dinner Thursday, Friday + Saturday
Campfire + S'mores
Daily Housekeeping
Fresh Linens, Towels, Blankets + Water 
Free Parking + Fiber Internet Wi-Fi
Arrival - Thursday, October 20th from 3PM - 7PM
Departure - Sunday, October 23rd at 11AM
Retreat Policies, Payments, Deposit, and Cancellations:
DOGS ARE NOT PERMITTED ON RETREATS. This is for the safety and wellness of the dog and other guests joining the retreat.
25% non-refundable deposit to reserve. The remaining balance is automatically charged 30 days prior to the retreat start date using the initial card on file used to make the reservation and deposit. If reserving within less than 30 days of retreat start date, the remaining balance is automatically charged within 48 hours after reservation is made.
Please note that because River Mountain retreats are limited to a small number of attendees, to allow for a more personable, intimate experience, our cancellation policy is in place to help guests, hosts, and us alike work together sharing expenses that may arise from unexpected cancellations.
• All deposits are non-refundable.
• Full balance is automatically charged 30 days prior to retreat start date, unless otherwise noted.
• Cancellation requests submitted more than 30 days from retreat arrival date, non-refundable deposit due.
• Cancellation requests submitted less than 30 days from retreat arrival date, full balance is due.
• Any refunds allowed will incur a 3% processing fee.
No one books a retreat with the intention of cancelling it, but unexpected events do occur. Please know that our cancellation policy is designed to mitigate damages and costs incurred to retreat hosts and River Mountain in order to maintain the retreat experience and affordability for other retreat guests. Exceptions cannot be made for any reason, including weather, injury/illness, or personal emergencies. No refunds or credits for failure to attend or failure to complete the retreat, or for arriving late or leaving early.
For reservations or general questions
Sign Up for Our Newsletter: