Retreat with Branches of Yoga
Hosted by Stacey & Jackie of Branches of Yoga
Join Stacey & Jackie from Branches of Yoga for three days of commUNITY, wellbeing and fun in the heart of the Appalachian Mountains. Retreating into nature offers tremendous health benefits such as decreased stress, increased relaxation, clarity, and renewed creativity. Settle into the serenity of a modern glamping experience, cradled by mountains and flowing water. Enjoy connecting over campfires and s'mores. This retreat will be geared towards finding balance and prioritizing self-care by tuning into what your system needs each moment throughout the day. You'll return home feeling physically relaxed, mentally clear and emotionally present.
It's difficult to give 100% to family and friends if your own internal system is running on empty. When we commit to the practices of yoga + self-care we can empower each other. Throughout this retreat we'll integrate the ancient teachings of yoga with the physical postures of the practice. We will learn simple meditation tools to minimize distractions and quiet our inner critics. We'll fuel our bodies with nourishing meals and fill our hearts with lasting friendships.
Opportunities for yoga, meditation, hiking, and campfire happy hours are available daily, as is the option to journal, nap, or read in a hammock. Make this experience as relaxing or energetic as you want. No matter what you choose, you are sure to leave feeling supported and recharged.
All-inclusive 4-day, 3-night retreat
Thursday, October 19 - Sunday, October 22, 2023
25% DEPOSIT DUE TODAY. REMAINING BALANCE CHARGED SEPTEMBER 19TH.
Stacey & Jackie of Branches of Yoga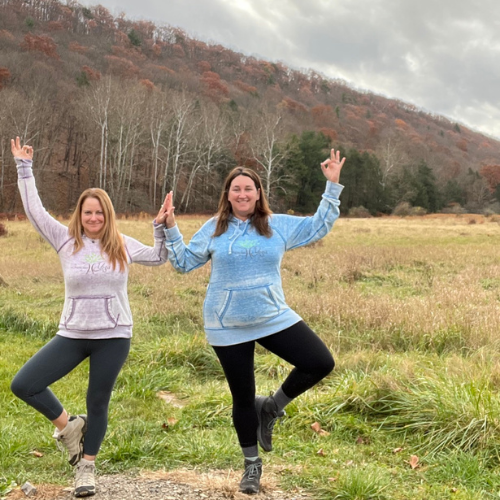 Stacey Hartman Sweirzbinski
Stacey's yoga journey began 10 years ago after having long time struggles with depression and anxiety. Stacey was looking for ways to help with these issues and came across an article on how yoga can help and decided to give it a try. Stacey immediately fell in love with the practice and continued to attend weekly classes. In 2012 Stacey decided to take the 200 hour yoga teaching training to deepen her personal practice. After graduating from Blue Heron Wellness in Silver Spring Stacey began teaching a small group of friends and slowly found the confidence to continue teaching, adding additional classes along the way. Stacey completed her 300 hour advanced yoga teacher training at The Yoga Center of Columbia in December 2017 and is now a registered yoga teacher at the 500 hour level.
Stacey also has continuing education in Kundalini Yoga, Yin Yoga, and is a certified 40 hour Trauma Informed Yoga teacher. Her teaching style includes meditation, slow flow, building strength, and finding ease while holding and breathing in the postures.
Jackie is an educator who first dabbled in yoga as part of an after work wellness program. After a health scare, her doctor recommended a consistent yoga practice as a way to mitigate the effects of stress, anxiety and depression on her body. Jackie committed to deepening her practice by attending classes weekly, and found her sanctuary. A recovering "type A" personality, she has discovered the importance of rest and stillness to complement life.
Jackie's training includes a focus on the science of yoga and mindfulness, trauma and restorative practices. Jackie is drawn to gentle hatha, yin and restorative practices as a way to balance the need for movement and rest. She believes a balanced practice of asanas, pranayama and meditation can help one to be healthy, strong and content. Jackie is also a Certified Workplace Mindfulness Facilitator with Mindful Leader using the principles and science of mindfulness to facilitate workplace wellbeing.
As a certificated science educator for over 23 years, Jackie is dedicated to learning and growing. She focuses on creating an inclusive space where ALL bodies are welcome and participants learn from and with each other. She enjoys incorporating poetry, nature, and sound to complement the themes of her classes.
Resting on 150 acres, River Mountain is bordered by Sweet Root Creek, Warrior Ridge and Tussey Mountain. River Mountain's stunning spaces are designed for reflection, mindfulness, and good vibrations on your self-care journey. Creekside yoga platforms, a restored barn turned wellness space, and the calm of nature make this the ideal destination for peace and wellness.
Located just a few hours from D.C., Baltimore, and Pittsburgh, in the mountains of Pennsylvania, River Mountain is remote yet easy to access.
Glamping Pods in the Main Lodge
Glamping Pod in Shared Main lodge Features
Glamping Pod, Sleeps 1 Guest
Sleeps One Person
Lockable Storage
Cedar Hot Soaking Tubs Steps from your Door
Blackout Curtains at Entry
Mountain Views of Warrior Ridge
River Mountain Retreat with Branches of Yoga
25% DEPOSIT DUE TODAY. REMAINING BALANCE CHARGED SEPTEMBER 19TH.
Standard Pod for One Guest, $800/person
October 19 - 22, 2023
Thursday - Sunday
Retreat Inclusions
All Retreat Experiences
Accommodations Thursday + Friday + Saturday Nights
Wellness Breakfast Friday + Saturday + Sunday
Farm Table Lunch Friday + Saturday
Community Dinner Thursday + Friday + Saturday
Campfire + S'mores
Daily Housekeeping
Fresh Linens, Towels, Blankets + Water
Free Parking + Fiber Internet Wi-Fi
Arrival - Thursday, October 19th from 3PM - 7PM
Departure - Sunday, Ocotber 22nd at 11AM
Retreat Policies, Payments, Deposit, and Cancellations:
DOGS ARE NOT PERMITTED ON RETREATS. This is for the safety and wellness of the dog and other guests joining the retreat.
25% non-refundable deposit to reserve. The remaining balance is automatically charged 30 days prior to the retreat start date using the initial card on file used to make the reservation and deposit. If reserving within less than 30 days of retreat start date, the remaining balance is automatically charged within 48 hours after reservation is made.
Please note that because River Mountain retreats are limited to a small number of attendees, to allow for a more personable, intimate experience, our cancellation policy is in place to help guests, hosts, and us alike work together sharing expenses that may arise from unexpected cancellations.
• All deposits are non-refundable.
• Full balance is automatically charged 30 days prior to retreat start date, unless otherwise noted.
• Cancellation requests submitted more than 30 days from retreat arrival date, non-refundable deposit due.
• Cancellation requests submitted less than 30 days from retreat arrival date, full balance is due.
• Any refunds allowed will incur a 3% processing fee.
No one books a retreat with the intention of cancelling it, but unexpected events do occur. Please know that our cancellation policy is designed to mitigate damages and costs incurred to retreat hosts and River Mountain in order to maintain the retreat experience and affordability for other retreat guests. Exceptions cannot be made for any reason, including weather, injury/illness, or personal emergencies. No refunds or credits for failure to attend or failure to complete the retreat, or for arriving late or leaving early.
For reservations or general questions
Sign Up for Our Newsletter: