River Mountain's Monday morning meetings are the best part of my week.
Coffee in hand, Meg, Glenn, Brandon, and I catch up on our weekends, discuss projects from the week before, and plan the week ahead. The 'catching up' part this week took the most time -- football games, a cross country meet, choir performances, soccer matches, the end of one fall break, and the start of another. Then it was on to discussion of our upcoming blog schedule...
The good news -- we have a ton of great content about our retreat. The bad news -- I drew the first assignment... which means I'm responsible for explaining Who We Are -- which suddenly seems kind of difficult.
It's hard to convey our team's passion about screen-time issues, healthy tech habits, our wonderful partners like Penn State and Leave No Trace, our breathtaking location in central PA, and the awesome River Mountain team. More than hard, actually. Impossible.
We are a group of parents, aunts, and uncles to 16 kids, all between the ages of 8 (Iris - Brandon's daughter) and 18 (North - Glenn's son). Like all parents from our era, we've been in the thick of technology issues with our kids since the introduction of tablets and smartphones in 2008. Since that time (my oldest son, Will, was 3 then), everything has changed for kids and parents. Everything. It hasn't been easy, and as every parent knows, it can be exhausting.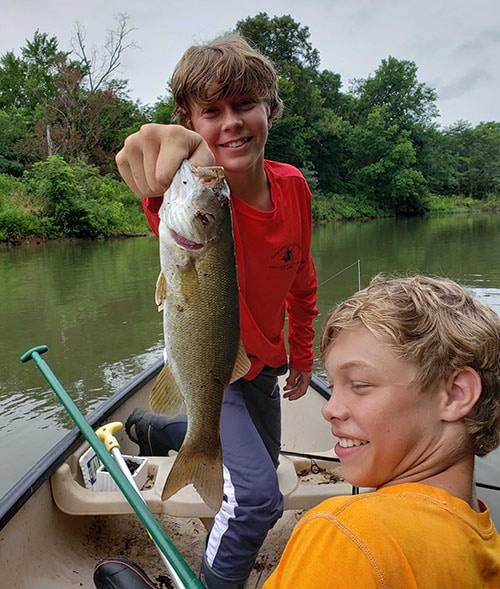 At the heart of the tech problem is persuasive design -- Big Tech companies using sophisticated, habit-forming tactics in the development of the apps and games from which our kids can't seem to disconnect...
So what do we do about it? How do we deal with this monumental shift? We know tech companies won't stop. It's their business model to keep kids glued to apps, games, and screens for as long as possible. They don't have to deal with the parenting side -- so we speculate that they may just not care...
River Mountain Retreat is our answer to 'What do we do about it?'.
Born of our own families' struggles with finding life/tech balance, River Mountain Retreat offers a way for young people to engage the issues surrounding the use of technology. Teachers can lecture a child about technology in a school setting, but until you remove them from their phone and get them outdoors, we've learned that it's unlikely to sink in. Lasting, impactful change is what we're looking to create -- and it's the reason we've chosen Pennsylvania's Allegheny Mountains as our location. We love the outdoors, and outdoor adventure -- and we want to make sure your kids can experience the outdoors, and the lasting effects of replacing a screen with real adventure.
Given the time, tools and setting to think critically, young people can become more self determined and create healthier tech habits. We know this is true for our own children, and we believe this is true for all young people. Our job at River Mountain is to help each young person by giving them the tools to improve their focus, communication skills, and health -- just as we do with our own.
Ryan
Founder
"Keep close to Nature's heart… and break clear away, once in awhile, and climb a mountain or spend a week in the woods. Wash your spirit clean." - John Muir
Meet Becca Gurney, Founder of Design Choice, a boutique graphic design studio in Washington, DC. Becca and her team work with progressive clients to make the world a better place, by encouraging entrepreneurial endeavors, advancing social justice and women's causes, and supporting women in leadership positions. She's also the creative genius behind our print designs and an absolutely awesome human.
Read More