Every element of River Mountain Retreat is intentionally designed to add to the restorative experience of our guests. One key aspect of this is in the design of our cabins and wellness retreat facilities. Inspired by our appreciation of Fallingwater (just 80 miles away) and Frank Lloyd Wright's innovative nature-based designs, our goal was to create a space that would bring the outdoors, in. A space that would inspire our guests' relationship to nature, yet still had the creature comforts and little luxuries of home. A space that kids would never forget and parents would love to stay at. A space of awe — as opposed to 'ew' of some more traditional camp bunkhouses.
To execute on our approach, we engaged Terry Squyres', Principal Architect of GWWO Architects out of Baltimore, MD. Terry's vision and designs for River Mountain went beyond our widest, wellness retreat dreams. The circadian rhythm cabins are the exact counter to the artificial light from screens that impact our sleep-wake cycle. The cabins allow our guests to rise with the sun - through the floor to ceiling glass windows oriented toward the rising sun - and fall asleep to the stars - looking out through the personal skylights above each guest's bed. While some architects may have taken the barn as an opportunity to over-design, Terry highlighted its rustic beauty, natural light and creative spaces by taking a more minimalist approach. The design, orientation and layout of each structure is purposeful - and you can feel that the moment you step on-site.
I sat down with Terry a few weeks back to take a deeper dive into the guiding principles of River Mountain's designs and hear her perspective on the project. Continue reading and then be sure to contact me for a tour of the property and our incredible wellness retreat facilities.
Initially, what piqued your interest in working with River Mountain?
I still have the notes from my initial phone call with Ryan Tyrrell, who spoke passionately about River Mountain's mission to mitigate the negative effects of excessive screen time on our kids, by creating a retreat with a research-based curriculum that fosters a restorative relationship with nature. He described the incredible beauty of River Mountain's site in Bedford, and the idea of enabling the landscape, the water, the mountain and the history of the farmstead to serve as the guiding inspirations for the design of the new retreat. To say it was a melding of the minds of River Mountain and GWWO is an understatement – our philosophies of capturing the essence of project in the architectural realization were clearly in sync.
Where did you begin with the River Mountain project?
Experiencing the site in Bedford in person with the River Mountain executive team vividly clarified for us why this was the perfect place to realize their dreams.  Listening to their goals for the Retreat while immersed in the natural beauty of the landscape, hiking through the woods to the creeks and the mountain, listening to the sounds of the water and the whistling wind, discovering the quiet clearings and animal hideaways, with majestic mountain views ever present, invested us in the distinct spirit of this place. It was easy to understand River Mountain's vision of students of all ages experiencing a transformation while engaging with the nature-based curriculum in this environment. In partnership with the River Mountain team, we found that placement of the retreat's various components on site – Main Lodge, Cabins, Recreation, Dining – felt self-evident due to River Mountain's goals of a welcoming, natural retreat environment, combined with features of the landscape and the historic farmstead.  The active upper campus of the revitalized and repurposed historic farmstead welcomes visitors, who then journey through the landscape to the tranquil peace of the new cabins.
What elements of the River Mountain design are you most inspired by and connected to?
The historic barn is my favorite of the existing farmstead buildings – it has lovely architectural proportions and qualities of natural light and shadow.  For me, its rustic character evokes my childhood days before handheld technology, when being a kid seemed simpler than it does today, and impromptu playing in fields, woods and streams with neighborhood friends was the everyday norm. The new architectural elements - the new cabins – act as a cornerstone in achieving River Mountain's mission. We designed the cabin experience to reconnect River Mountain's residents to their natural circadian rhythms, emphasizing access to natural daylighting, the glittering beauty of the night sky, and fresh air, in spaces that support the retreat's daily routines of adventure and reflection.
How did your perspective as a Mom impact and evolve the design?
As many parents have, I've seen the negative effects of excessive screen time on my own children, so River Mountain's mission resonated with me in a deep and personal way.  Unquestionably, my observations of my children's perspectives and their experiences with sleepaway retreats informed our work, as with the customizable spatial panel features in the cabin bunks.
Having two daughters of your own, what concerns you most when it comes to their technology use?
Personal technology has evolved to become addictive for kids, and unchecked, its use seems to expand to fill any available moment, thus inherently limiting time for other enriching activities, most of all, playing outside!  As I've found is true for many parents, I'd much rather they spend time on activities that foster movement, creativity and social skills and relationships. Now, self-motivation for these types of activities seems constantly challenged by the allure of technology.
Among all your past projects, which projects stand out most to you?
All of our projects have some element of life-long education in them, a passion of ours here at GWWO. One of our high school projects incorporated museum-quality exhibits throughout the public areas of the school, which told the personal stories of many community members. These stories of the larger community's history of leadership, talent, and hard work as a foundation of achievement continue to inspire the students. Applying our cultural project experience to our educational work in service of unifying the two distinct communities who were being brought together in this new school was profoundly meaningful to our entire project team.
Your projects have received countless awards. Which are you most proud to have won?
GWWO's work at George Washington's Mount Vernon has been recognized for its multi-layered connection to the integrity, civility and ingenuity of our nation's first President, who was an inspirational pioneer in many aspects which are far lesser-known than his military and political leadership. We designed the architecture of the new Orientation Center, Education Center and Museum "in the spirit of" this extraordinary man.
When you're not running from the office to the girls' school functions and sports practices - what does your family enjoy doing to unwind and connect?
Our first choice of a family activity is scuba diving, exploring the vast and gorgeous ocean seascape and meeting its creatures. While our underwater adventures are few and far-between, they are some of our most beloved and memorable.
Where is your favorite place in the Baltimore region to get outside and reconnect with nature?
We are lucky to have the Northern Central Railroad trail in our community, which winds its way through forests and along the Gunpowder River. One of my favorite outdoor activities is a family bike ride along this spectacular resource!
To view more of GWWO Architect and Terry Squyres work, visit their website.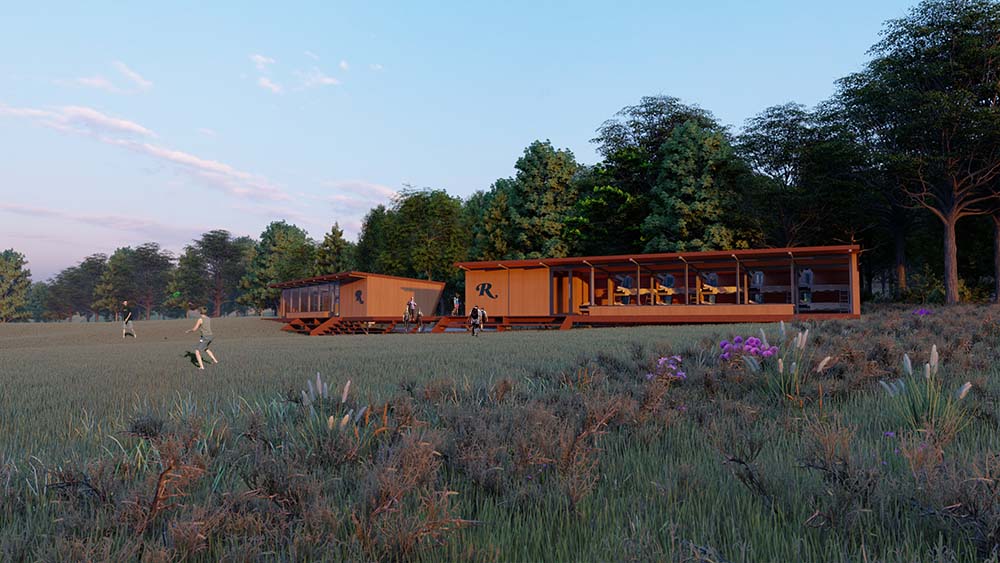 Meet Becca Gurney, Founder of Design Choice, a boutique graphic design studio in Washington, DC. Becca and her team work with progressive clients to make the world a better place, by encouraging entrepreneurial endeavors, advancing social justice and women's causes, and supporting women in leadership positions. She's also the creative genius behind our print designs and an absolutely awesome human.
Read More