Horseback Riding with River Mountain
River Mountain has partnered with Horseplay Stables to give our guests an accessible horseback riding experience… or as we like to call it Cowboy (and Cowgirl) Camp. Gaining our inspiration from the binge worthy series, Yellowstone, we created a few weekends to really immerse ourselves in that ol' western way of life that comes with saddling up on a horse. Horseback riding with Horseplay Stables is also available year round to all guests who schedule in advance, but you can check out our pre-planned weekends below.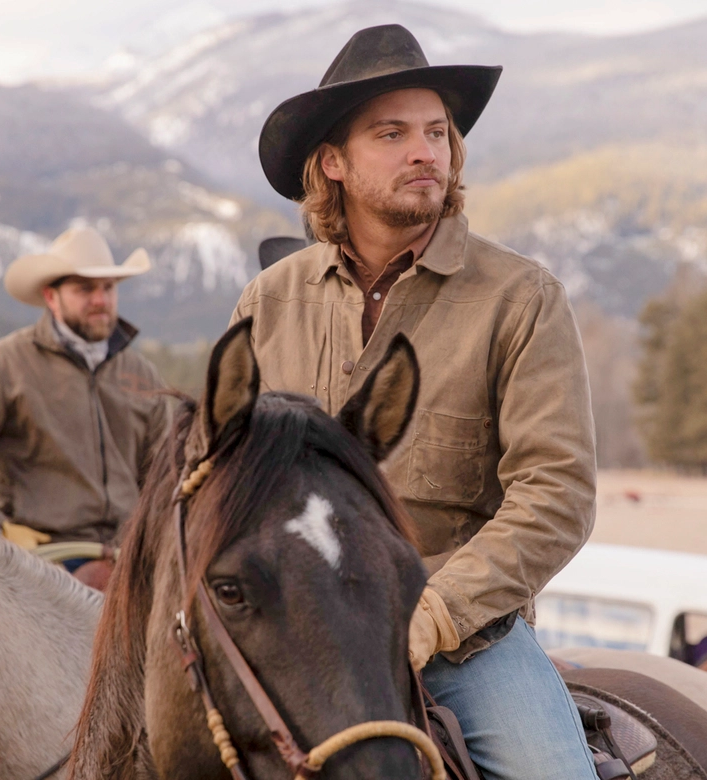 It was definitely hard work for him, but Luke picked up on the basics of horseback riding pretty quickly. "Parts of it came semi-naturally," he said. "I think the horseback riding, thankfully, for me, clicked quickly. It's one of those things, though, you could never stop getting better at it." Yellowstone's Cowboy Camp really has the same purpose as our very own Horseback Riding Weekend; to fall in love with the outdoors, get on a horse, and live the life of a cowboy for the day. Luke Grimes himself said his Cowboy Camp was pretty successful:

"We were taking these horses up mountains, jumping creeks, and doing a lot of stuff that a lot of us had never done before just to try to get us into the feel of the place and of the world. Also, to try to make us fall in love with this way of life. It really worked."
You don't have to be an experienced rider to saddle up! Even the cowboys from Yellowstone had to attend a Cowboy Camp to really take the reins of their roles. Check out the video here. Yellowstone's leading actor, Luke Grimes, didn't even know how to ride a horse before the show. As one of the most iconic modern cowboys, who clearly looks pretty comfortable on a horse (see below), we thought he was a pretty good TV cowboy to take advice from.
We may have to leave out the jumping creeks and other stunts, but you get the picture. We're here to give everyone this experience, no matter the skill level! Though even the most novice horseback rider is encouraged to live the cowboy dream like Luke Grimes, it never hurts to get a little inside info before you arrive.
Get a leg up on the basics of horse riding with safety tips before your Cowboy (and Cowgirl) Camp experience.
Horseplay Stables will run you through all of the basics throughout your time, so no need to take notes. Tips from horserookie.com.
Helmets are a must. Before you get on, make sure you are wearing a properly fitting horse riding helmet.
Stay alert. Riding is super fun, and when you're first learning, it's easy to get distracted.
Protect your feet: Proper boots are a must. No need to purchase new ones for your riding experience, just definitely no open toes allowed!
Have someone hold your horse for you while you get on.
Always check your girth! If it's not snug enough, the saddle can "roll" when you try to get on.
Stand on the horse's left side. (It's customary to work from this side of the horse, so it will be accustomed to this.)
Hold the ends of the reins in your left hand, just in front of the saddle, but keep them loose. (Reins are what you use to steer your horse, so you'll want to have them ready.)
Put your left foot in the stirrup. Make sure the ball of your foot is on the stirrup vs. sticking your foot all the way through to the heel.
Put your weight on your left foot and "step up" to a standing position. (Your right leg will be hanging next to your left.)
Swing your right leg up and over the horse's rump, being careful not to accidentally kick them on the way.
Sit down in the saddle as gently as possible.
Adjust your stirrups to the proper length, or have your trainer do it for you.
Put your right foot in the other stirrup. Remember to center the ball of your foot on the stirrup, not your toe or heel.
Congrats! You're now on a horse.
Here is a helpful video showing how to mount a horse from the ground. This person is using a Western saddle.
You may also use a mounting block, which is a wooden or plastic stepping stool designed to bring you up to the level of the stirrup and make it easier to get on. The mounting process, itself, will be the same.